Biostar
In a press release, Biostar, a well-known manufacturer of motherboards, graphics cards and storage devices, announced support for the AMD Ryzen 5000G series processors (codenamed Cezanne).
Credit: Biostar Recall that the Ryzen 5000G were initially only available to OEMs, but were later distributed to the retail market as well. The range consists of three 65W main models equipped with four to eight Zen 3 cores, accompanied by an integrated Vega GPU ranging from six to eight cores.
CPU Core / Thread Frequency Boost / Base Core Graphics Frequency GPU TDP Cache Ryzen 7 5700G 8/16 3.8 / 4.6 RX Vega 8 2100MHz 65W 20MB Ryzen 5 5600G 6/12 3.9 / 4.4 RX Vega 7 1900MHz 65W 19MB
Ryzen 3 5300G
4/8 4.0 / 4.2 RX Vega 6 1700MHz 65W 10MB Ryzen 7 5700GE 8/16 3.2 / 4.6 RX Vega 8 2000MHz 35W 20MB Ryzen 5 5600GE 6/12 3.4 / 4.4 RX Vega 7 1900MHz 35W 19MB Ryzen 3 5300GE 4/8 3.6 / 4.2 RX Vega 6 1700MHz 35W 10MB As well as all Zen 3 processors , Ryzen 5000G chips have switched to a faster DDR4-3200 interface, which will surely help the integrated GPU in gaming performance. However, the CPUs were once again limited to PCI Express 3.0. The most important novelty of these new products is the use of CPU cores based on the Zen 3 architecture, capable of offering up to 19% higher performance at the IPC level than the previous generation Ryzen 4000G models
With a simple BIOS update, Biostar users can upgrade their existing motherboards based on the 400 and 500 series chipsets with AM4 socket to the latest processors without any problems. The company has released a new BIOS version for the X570, B550, A520, X470 and B450 chipsets, promising unprecedented stability and performance across all of their motherboards. Obviously, if you have a compatible Biostar card, we recommend that you consult the official page of your product to download the latest firmware version and proceed with the update.
---
Biostar Unveil its Z590A-SILVER Motherboard


Biostar has today unveiled its brand new Z590A-SILVER motherboard. Designed to support Intel's 10th/11th Generation processors and high-end graphics cards, the new Z590A-SILVER motherboard is highly versatile. Powered by Intel's Z590 single-chip architecture this new motherboard is highly efficient and robust in any use case.
Modern features like PCIe 4.0 and PCIe M.2 4.0 and other cutting-edge functionality add up to a great platform tailor-made for gaming and content creation. With the support of up to 128 GB of DDR4 memory across 4 DIMM slots and an overclocking capability of up to 5000+(OC) MHz, the Z590A-SILVER motherboard can handle all high-intensive tasks thrown at it.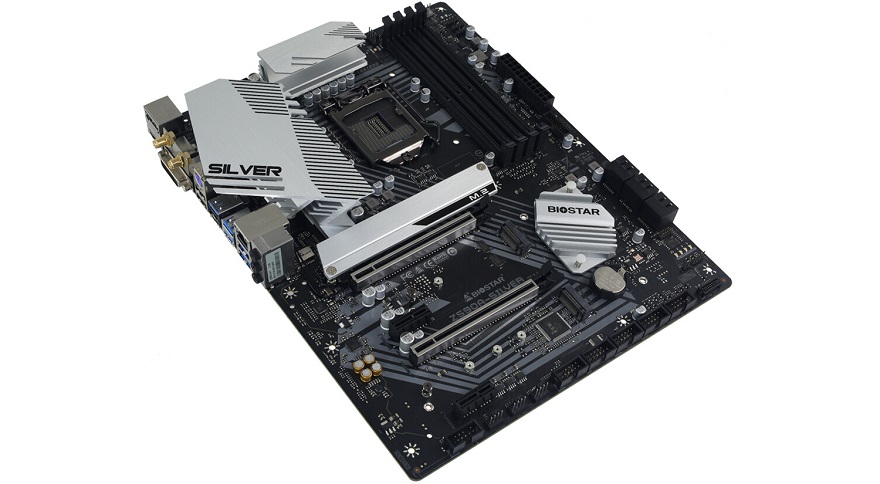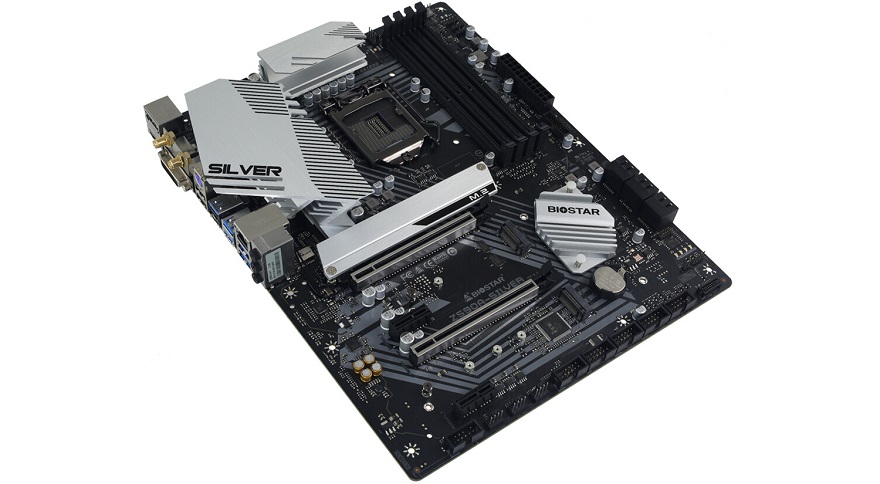 Biostar Z590A-SILVER Motherboard
Backed by BIOSTAR's proprietary Digital PWM technology and the 14 Phase power design, the new Z590A-SILVER motherboard is safe and long-lasting, capable of supporting the best hardware with ease. The Z590A-SILVER packs all the essentials in its rear I/O panel. Designed with 8 USB ports consisting of 3x USB 3.2 (Gen1) Ports, 2x USB 3.2 (Gen 2) Ports, 2x USB 2.0 Ports and a single USB 3.2 (Gen 2×2) Type-C Port. Furthermore, a single 1x PS/2 Keyboard / Mouse Port provides extra connectivity to connect an older device into the system.
Additionally, 2x WiFi Antenna ports that support WiFi 6 and a single LAN port powered by Realtek RTL8125B chipset are readily available for faster internet connectivity. For video output, the motherboard comes with a single DVI-D port, a single DP-Out port in addition to an HDMI 2.0 port capable of supporting up to 4k vivid crystal-clear images. Three powerful audio ports controlled by the ALC1220 chipset provide an immersive audio-visual experience with 7.1 Channels, High-Definition Audio output.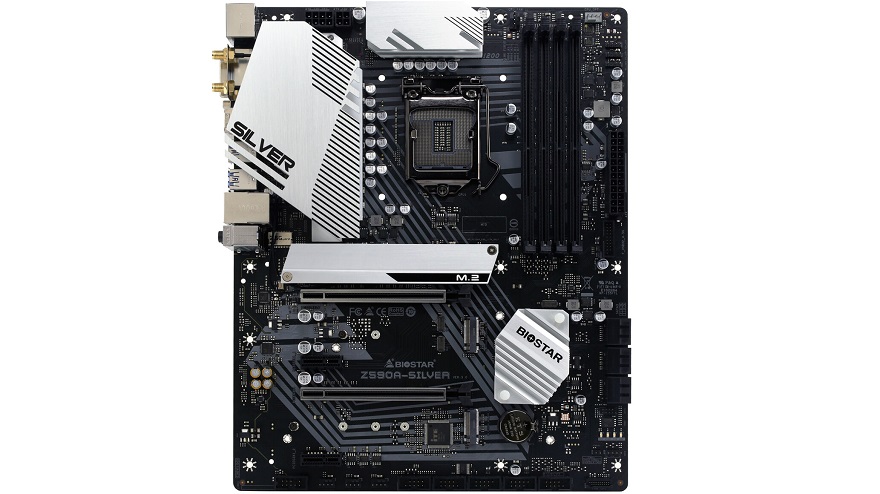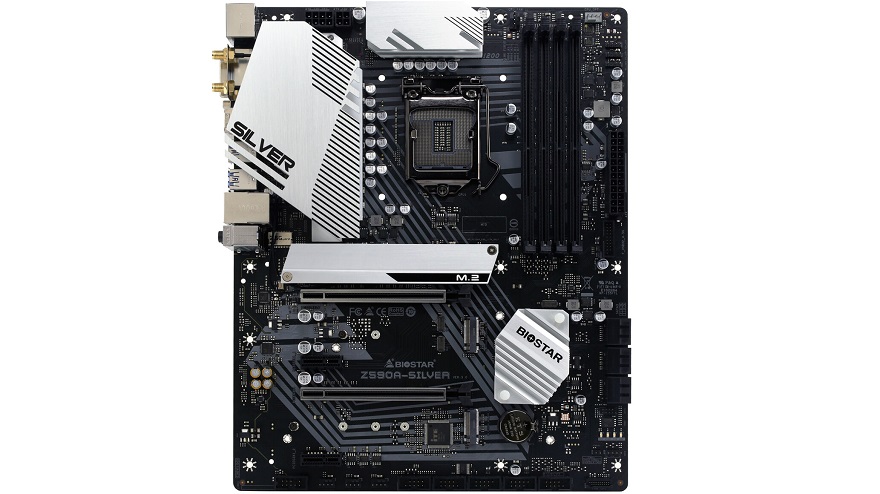 Features
Supports 10th/11th Generation Intel Core™ Processor
Intel Z590 single chip architecture
Supports 4-DIMM DDR4- 2133/ 2400/ 2666/ 2800/ 2933 3200/ 3600(OC)/ 3733(OC)/ 3800(OC)/ 3866(OC)/ 4000(OC)/ 4133(OC)/ 4266(OC)/ 4333(OC)/ 5000+(OC) up to 128 GB MemorySupports PCIe 4.0
Supports PCIe M.2 4.0 (64Gb/s)
Supports Intel Optane Technology
Supports HDMI 2.0
Supports 2.5 GbE LANSupports USB 3.2 Gen2x2 Type C
Supports WiFi 6 module (No WiFi 6 card included)
Where Can I Learn More?
At the time of writing Biostar has not confirmed any specific regional release dates for its Z590A-SILVER motherboard nor how much we can expect it to cost when it does arrive with retailers. – If you do, however, want to learn more, you can check out the official product website via the link here!
What do you think? – Let us know in the comments!