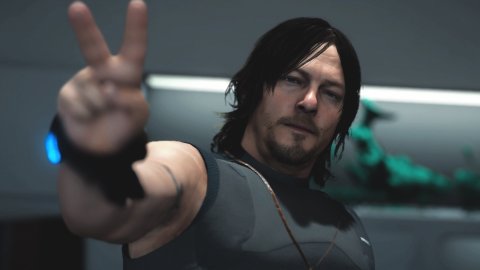 Death Stranding
Death Stranding has achieved sales over 5 million copies
on PS4 and
PC, which demonstrates how Kojima Productions' game has achieved very positive results on the market, also in consideration of its particularities in terms of structure and setting.
Also for this reason, the head of publishing of the team, Jay Boor, has defined himself optimistic about the possible sales performance of Death Stranding: Director's
Cut on PS5<
/a>
, arriving in September. "With Death Stranding being the first title developed by Kojima Productions, we must say that it has achieved quite positive results, from a sales point of view," said Boor, obviously referring to the team as an independent company from Konami. > "According to data updated to March 2021, Death Stranding has sold over 5 million copies worldwide on PS4 and PC", which also makes us think positively about the performance of Death Stranding: Director's Cut, the new version announced for PS5 and coming on September 24, 2021, as announced at
Sony
's
State of Play
a few weeks ago.
According to reports by Boor, the PS5 version will also expand the multiplayer and social aspects of the original, namely the particular Social Strand System that allows asynchronous interaction between players, creating a community linked to the game world.
Hideo Kojima has also criticized the name of the new version of the game, considering that and "Director's Cut" assumes that the original version was not designed according to the author's dictates, which is not true. In any case, find all the information on Death Stranding: Director's Cut in the dedicated preview.
Source Have you noticed any errors?
---
Death Stranding Director's Cut Will 'Expand' on the Strand System as Game Passes 5 Million Copies Sold
Kojima Productions has said that the Director's Cut of Death Stranding will expand upon the game's asynchronous multiplayer Strand system when it releases later this year. It also revealed that the original game has passed 5 million copies sold.
Speaking in an interview with GameIndustry.biz, Kojima Productions head of publishing Jay Boor confirmed that the game will 'expand' on the system with its upcoming launch on PlayStation 5. It's not clear exactly how that will be done right now, but we should be learning more soon.
'Death Stranding's core component is its Social Strand system, which is a unique asynchronous multiplayer feature that enables players to connect with other players from around the globe through a variety of in-game actions. The Director's Cut will expand on this system and we will be sharing more on that in the weeks to come.' said Boor.
As a single-player game, Death Stranding does not allow players to team up alongside one another whilst traversing the game's vast landscape. However, the Social Strand system does allow for players to have several important elements of online interaction which mainly take place via the Chiral Network. Upon the game's initial release, IGN explored how the Social Strand system allowed players to interact with one another during their travels.
Have you played Death Stranding?
YESNO
We know that the Director's Cut will add new features to Death Stranding, including the likes of the cargo catapult – which will presumably be a structure that can appear in other players' games through the Strand system. However, it's not clear if the expansion to the system is just in the items and structures players can use, or if there's a more baseline mechanical change behind it all.
Death Stranding Director's Cut Trailer - Summer of Games Screenshots
Elsewhere in the interview, Boor commented on Death Stranding's sales performance. 'With Death Stranding being the first title developed out of Kojima Productions, from a sales perspective, it has performed quite well,' he said. 'As of March 2021, Death Stranding has sold through over five million units worldwide on PlayStation 4 and PC.' said Boor.
Previous to Death Stranding, Kojima's most recent game, Metal Gear Solid V, sold over 6 million copies after its release in 2015. Kojima Productions will be hoping that the release of Death Stranding Director's Cut further improves these figures when the game releases for PlayStation 5 on September 24.
If you're looking for more information on the Death Stranding Director's Cut, then check out this article about why Hideo Kojima reportedly does not like calling the upcoming game a Director's Cut in the first place.
Jared Moore is a freelance writer for IGN. You can follow him on Twitter.