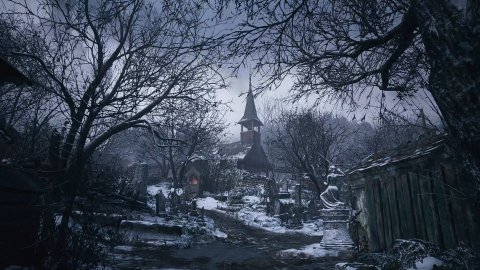 Resident Evil Village
The second
Resident Evil Village
demo will focus on gameplay Resident Evil Village will have a second demo coming out before the game's launch, but this could happen as early as the next few days, considering it seems that the new trial version has already been uploaded to the game. internal PSN, currently unreachable by the public but practically ready.
The news comes from some sources such as MP1st, on the basis of which some new and specific SKUs have been detected for the four regions of the PSN (USA, Europe, Japan and Asia) entitled "Resident Evil Village Gameplay Demo" (called instead Biohazard in the Japanese version).
Although there are no confirmations yet, also considering that the Maiden demo has a previous name, this seems to be the new demo expected to arrive on all platforms before the release of Resident Evil Village.
This is a package of about 10 GB, from which some details related to the controls, which also seem to involve the use of Remote Play on PS Vita. What we can deduce from this "stealth" upload on PSN is that the second Resident Evil Village demo is practically ready and we are only waiting for the go-ahead from Capcom and Sony for its release to the public. The most popular idea, at this point, is that the demo can be made available at the new Resident Evil Showcase special event scheduled at midnight between 15 and 16 April. Similar to what happened with the first Maiden demo, it is likely that during the event, or shortly after, Capcom decides to make available the download of the second demo of the game.
The new demo, already announced some time ago, aims to show more closely the actual gameplay of Resident Evil Village, with an actual segment of the game, where the Maiden demo focused more on presenting the setting, atmosphere and new graphics. In addition,
it will be
made available on all platforms provided. The Resident Evil Village release date is set for May 7 on PC,
PS4
,
PS5
,
Xbox Series X
| S and Xbox One.
Source Did you notice any errors?
---
The Resident Evil Re: Verse Open Beta Is Out Now
While you have to wait a little longer to play Resident Evil Village, the multiplayer game Resident Evil Re: Verse is now available on all platforms through an open beta.
The beta test is now live on PS4, PS5, Xbox One, Xbox Series X|S, and PC through Steam. The PS5 and Xbox Series X|S editions are not bespoke next-gen versions, but instead they are backwards-compatible editions of the game.
The Resident Evil Re: Verse open beta is a test of sorts for the game's system, balance, and servers, Capcom said. Because it's a beta, there may be 'unexpected' maintenance. Players who downloaded the previous closed beta test don't need to re-download the game.
One further note to be aware of is that HDR is not supported on Steam in the beta. You can download the beta right now from the store of your choosing.
Resident Evil Re: Verse Beta Test Times
April 8th 2021 2:00 AM (EDT) to April 11th 2021 2:00 AM (EDT)
April 7th 2021 11:00 PM (PDT) to April 10th 2021 11:00 PM (PDT)
Resident Evil Re: Verse is an online multiplayer game that is bundled with Resident Evil Village. The game offers up to six-player multiplayer, with players fighting in five-minute deathmatch events; the player with the most points at the end wins.
Gallery
One of the twists is that, when your character dies, their body becomes a 'powerful bioweapon' which can then be used to attach other players. Players can also obtain Virus Capsules on the map to become stronger, and kills with these earn you more points.
You can check out the gameplay trailer and screenshots above to get a closer look at Resident Evil Re: Verse. The beta test has experienced some issues, and Capcom is investigating.
In other news, the next Resident Evil Showcase event is scheduled for April 15. Capcom is promising to reveal a new gameplay trailer and details for Resident Evil Village during the event, while the publisher is also lining up some surprises. For more, check out our RE Village preorder guide.
For more on Re: Verse, check out GameSpot's feature, 'Why Is Everyone So Small In Resident Evil Re:Verse?'
You need a javascript enabled browser to watch videos.
Size:
Want us to remember this setting for all your devices?
Sign up or Sign in now!
Please use a html5 video capable browser to watch videos.
This video has an invalid file format.
Sorry, but you can't access this content!
Please enter your date of birth to view this video
By clicking 'enter', you agree to GameSpot'sTerms of Use and Privacy Policy
enter
GameSpot may get a commission from retail offers.