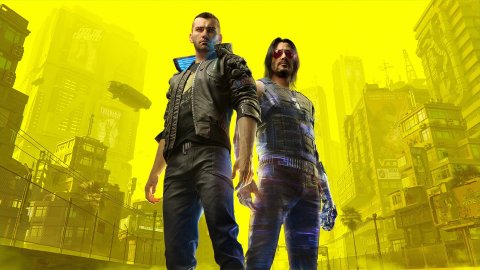 Cyberpunk 2077
Cyberpunk 2077 continues to evolve and gets patch 1.22 in these hours on PC,
PS4
,
PS5
,
Xbox
One,
Xbox Series X
| S and Google Stadia, or a hotfix that aims to correct various problems and improve stability and performance in general. of the game.
In essence, this is a corrective update compared to the previous patches, namely 1.20 and 1.21, a hotfix published to correct some flaws that some players have found in using Cyberpunk 2077 after the latest updates, but that should still fix the game's behavior in general.
There are several points directly touched by patch 1.22, such as the correction of quests and sections of the open world and fixes of problems related to the graphics and the user interface. Among these, the inconveniences that emerged at Memoria Park for the Frequent Flyer achievement, Johnny's glitches after purchasing the Nomad car from Lana, the inability to use the elevator in the Gig: Until Death Do Us mission have been corrected. Part, Takemura's problem getting stuck in the Japantown Dock in the Down on the Street mission and problems in the New Dawn Fades and Riders on the Storm quests.
Added to this are corrections to some clipping problems on NPC clothing and Arabic subtitles, as well as improvements applied in terms of performance. These include a specific fix for the Xbox One ESRAM and GPU optimization and improvements in memory management on PS5.
Source Have you noticed any errors?
---
Here Are The 'Cyberpunk 2077' Hotfix 1.22 Patch Notes
Cyberpunk 2077
CDPR
Cyberpunk 2077 is back with yet another hotfix, part of the ongoing effort by CDPR to fix the game, four months after launch now. We know that 40% of the team is working on fixes while the rest have moved on to new content, so it does seem unlikely we'll see a patch quite as huge and full of fixes as 1.2 was. But there are more that have arrived with Hotfix 1.22.
So, what changed? A few different things, but if you're looking for big quality of life improvements or additions, you won't find them here.
Quests
They are still fixing Down on the Street, the famous quest that broke patch 1.1, and now Takemura will just teleport to Wakako's office if he gets stuck.
Johnny's appearance will no longer be weird after buying the Nomad car from Lana.
An elevator will not work in Gig: Until Death Do Us Part
You will no longer get trapped in a garage in Epistrophy.
You can now open the phone at the start of New Dawn Fades.
You can now use weapons and consumables after interacting with a panel in Riders of the Storm.
Can't say I experienced any of those, but if any of those were tripping you up, there you go.
Cyberpunk 2077
CDPR
Visuals/Performance
They fixed some NPC clothes clipping, and improved GPU performance of skinning and cloth rendering.
The usual "various memory management improvements" which means less crashes. This shows up pretty much every hotfix.
Console-Only
More memory management improvements specifically for PS5.
GPU and ESRAM improvements for Xbox One, which has been the worst-performing console for the game to date.
Those are all the highlights, even if I missed one or two. In short, we will have to see how the performance improvements feel, if they're noticeable, and the quest bug squashing will only affect a small number of people.
To answer the eternal question of "is this enough to get Cyberpunk back on the PlayStation Store???" I mean who knows at this point. If Sony didn't do it after the massive 1.2 patch, some random hotfix isn't going to trigger that, and it's clearly something they just have to negotiate with CDPR directly. Though CDPR has said that this situation has directly negatively impacted sales at this point, so that has to be their primary focus. I would be surprised if Sony waited all the way until the PS5 version of the game was released later in the year, but at this point, it's been 4 months, I don't know what's going to push them over the edge.
More to come, and I am curious what 1.3 will end up holding, and when free DLC will start to be announced.
Follow me on Twitter, YouTube, Facebook and Instagram.
Subscribe to my free weekly content round-up newsletter, God Rolls.
Pick up my sci-fi novels the Herokiller series, and The Earthborn Trilogy, which is also on audiobook.