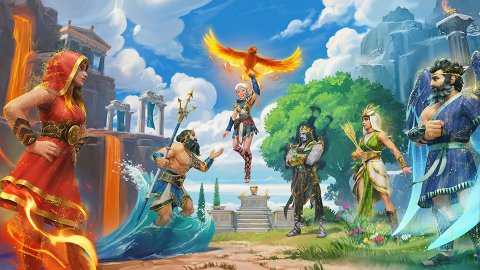 Immortals Fenyx Rising The Lost Gods
Ubisoft
has revealed to the world the third DLC of Immortals Fenyx Rising: The Lost Gods. The French company has unveiled the release date of this new expansion and the first details regarding the plot and game content. Immortals Fenyx Rising will be available starting April 22, 2021.
We know that in this new adventure we will have to control a new heroine, Ash, who will embark on an "epic journey to reunite the Greek gods". The game
setting will be
Pyrite Island. Within this new place Ash will have to find and gather the gods who left Olympus after the clash with Zeus: including Poseidon and Hades. Our task, in Immortals Fenyx Rising: The Lost Gods, will be to convince them to return to the Pantheon to restore balance.
Immortals Fenyx Rising: The Lost Gods In addition, Immortals Fenyx Rising: The Lost Gods will also offer new features gameplay, such as a brawler-inspired combat system and overhead view. Ash will have their own power-up system and unique abilities to use in battle and while exploring. A special mission has also been added to the original game as an introduction to the expansion. All of the rewards from this mission can be brought into the DLC, so it's convenient to try it.
Immortals Fenyx Rising: The Lost Gods will arrive on PC, Stadia,
PS4
, PlayStation 5,
Xbox
One,
Xbox Series X
| S
and Nintendo Switch
. We remind you that the base game has a demo. Finally, here is the review of the second DLC, Immortals Fenyx Rising: Myths of the Eastern Kingdom.
Source Did you notice any errors?
---
Immortals Fenyx Rising - The Lost Gods DLC Release Date Announced
Ubisoft
has revealed that Immortals Fenyx Rising - The Lost Gods DLC
will be released
on April 22, 2021.Immortals Fenyx Rising - The Lost Gods DLC is the final expansion in the game's Season Pass and features a new hero named Ash, who was chosen by Fenyx to bring back the lost gods.
This new chapter will also feature top-down gameplay and all-new brawler combat, which will be a departure from Immortal Fenyx Rising's third-person camera view.Ash must travel to the Pyrite Island to reunite these lost gods, which include Poseidon and Hades, who all left Olympus after a falling out with Zeus.
More details about The Lost Gods DLC will be released closer to its release date, but fans can start a primer quest right now in the northeast of the main game's Golden Isle. This will provide a preview of the challenge to come and rewards that can be carried over to the DLC.
Have you played Immortals Fenyx Rising?
YESNO
Immortals Fenyx Rising's second DLC - Myths of the Eastern Realm - featured both a new protagonist and a new location, but it didn't quite live up to its promise in our mind.In our review of Immortals Fenyx Rising - Myths of the Eastern Realm DLC, we said that 'its lack of ambition and inability to distinguish itself from the base game's adventure is a bit of a letdown, really. Attractive as the Chinese-themed reskin may be, just underneath is combat, exploration, and puzzle solving that is functionally nearly identical to what we've already played, and the characters aren't nearly as much fun.'Have a tip for us? Want to discuss a possible story? Please send an email to newstips@ign.com.
Adam Bankhurst is a news writer for IGN. You can follow him on Twitter @AdamBankhurst and on Twitch.