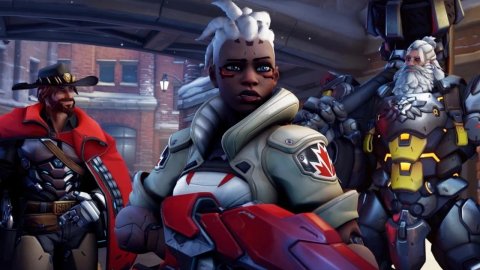 Overwatch 2
Blizzard
is about to
unveil a new hero who will be added to the cast of
Overwatch
2, based on an official tweet published in the past few hours by the company, which points to today, November 4, 2022, with an announcement at the Overwatch League Grand Finals. br>
As you can see in the message below, the appointment is for today, Friday 4 November 2022, within the OWL Grand Final to be held in the next few hours, with the recommendation to "tune in" to event to get a first look at the next hero of the game. However, as far as Italy is concerned, the appointment could be moved to tomorrow morning, November 5, 2022, given the time.
It will be
an "early look", which could represent a teaser trailer or perhaps a more complete presentation video,
but it is
difficult to predict as there have been no clues to the character in question.
In any case, it is very likely that the information
will arrive in
our part only in the morning of tomorrow, November 5th: considering that the first matches of the Overwatch League Grand Finals are scheduled to start at 7:00 pm PT, which correspond approximately to 5:00 in the morning in Italy, it is unlikely that anything will emerge today, according to our schedule.
It will be the fourth hero added to the cast of Overwatch 2 since its release date: in the launch period Sojourn and Junker Queen were added, while later it was Kiriko's turn. At this point it is the turn of the fourth hero, whom we await to see in the next few hours.
In the meantime, we remind you that Mei has been temporarily removed from the roster in order to make corrections to bugs related to the character, which should be available again with the November 15th update.
Source Have you noticed any errors?