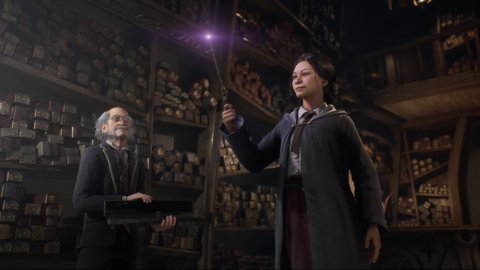 Hogwarts Legacy
Through the official
Twitter profile of
Hogwarts Legacy , the developers of Avalanche presented Dinah Hecat , the Defense Against the Dark Arts professor who will teach our character various spells.
The tweet includes a portrait of Hecat and a brief biography from which we learn that she served in the ranks of the Ministry of Magic for years building a successful career, before retiring and becoming a teacher at the Hogwarts Academy. She is described as a strict but nice teacher, who prefers to teach students using a direct and practical rather than a theoretical approach.
"Strict but nice Professor Hecat takes her teaching responsibilities very seriously" , reads the official description. "After a successful career in the Ministry of Magic - during which she is said to have spent time in the Department of Mysteries - she retired to become Hogwarts Defense Against the Dark Arts professor. While she is happy to be at Hogwarts, some believe his hands-on teaching method satiates an innate desire for action."
The decision to dedicate a presentation on Twitter to the character suggests that Dinah Hecat could play an important role in Hogwarts Legacy. Who knows maybe she will be the one to offer us access to one of the many secondary activities of the game confirmed by trophies.
To find out
for sure, we just have to wait for the debut of Hogwarts Legacy in stores, which we remind you is set for February 10, 2023 for PC,
PS4
,
Xbox
One,
PS5
,
Xbox Series X
|S, with the
Nintendo Switch version
that will arrive later this year.
Have you noticed any errors?