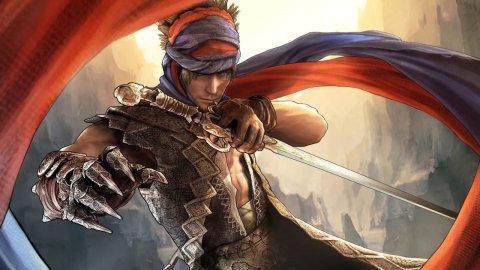 Prince of Persia 2008
In the long history of Prince of Persia , the game released in 2008 has remained to all intents and purposes a unicum, being a single chapter that has not received direct sequels or particular references with further games in the series, but this too could receive a remake or remaster , according to some indications.
Simply identified as Prince of Persia 2008 or "Prodigy" in some cases, since its simple title could be confused with the progenitor or others in the series, the
Ubisoft
game stands out from all the others for the fairy-tale and almost cartoonish graphic style given by the use of cel-shading and by rather particular atmospheres and game mechanics compared to the others.
Many remember it fondly and it was very well evaluated by critics at the time, therefore his return could make sense in the modern market, and this could happen based on what has recently emerged.
Prince of Persia: the prince and the inseparable Elika in action Already last month, the site TheGamePost had collected information on a possible return of the Prince of Persia of 2008, referring as the official domains princeofpersia.com and princeofpersiagame.com had been recently updated and that, after this update, they pointed directly to the page of the 2008 chapter on the Ubisoft site.
The speech would have been in some way corroborated also by the well-known insider Shinobi602, who reported at the time as some information on the relaunch of the series were true, even if inserted in the midst of various inaccuracies and falsehoods. The issue resurfaced today as the official Prince of Persia Twitter account posted an image of the 2008 chapter, fueling these rumors again.
These are obviously vague and minimal clues, but this
is enough to
make many think of a possible return of the particular Prince of Persia in cel-shaded, remained isolated in its 2008 release and perhaps inclined to return to scene. Meanwhile Prince of Persia: Sands of Time Remake is finished and has been certified by
PlayStation
, but
there is no
official news regarding its release.
Source Have you noticed any errors?