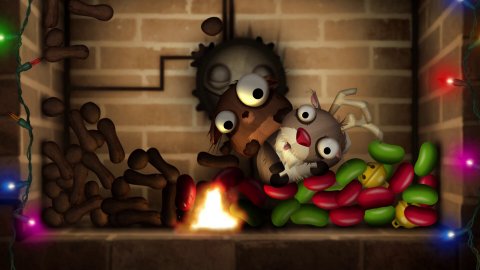 Little Inferno
Little Inferno: Ho Ho Holiday is finally available on PC (Steam and
Epic Games Store
),
Nintendo
Switch and mobile systems, at
the price of
only € 4.99. This is the first and only expansion for the game. Considering that Little Inferno dates back to November 19, 2012, it has been a good ten years since the original was released.
For those who
don't know what we're talking about, Little Inferno was an excellent puzzle game that mixed very simple and accessible to a deep narrative and with great philosophical implications.
Let's read the official description of the expansion:
Return to the world of Little Inferno with a new scary Christmas story, a new mysterious character, a new catalogue, new toys, new combos and lots of new Christmas contents to keep you warm.
The fireplace mode Let's now find out what the contents of this expansion are:
A new scary Christmas tale.. there's something coming!
A new Christmas catalog with 20 new toys... with new unusual features.
A new mysterious character.
More than 50 new combos.
Infinite Yule Log. Light the fire and let it burn for a cozy atmosphere.
The original Little Inferno campaign is always available though.
Have you noticed any mistakes?