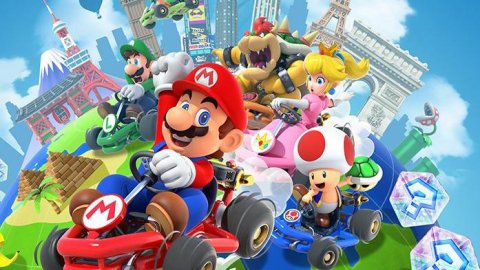 Nintendo
has announced that Mario Kart Tour, a mobile game in the big N racing series, will receive an update in September 2022. This update will add "new ways to play". The information was shared via Twitter.
"With the Mario Kart Tour Multiplayer Update at the end of September,
we will be
adding new ways to play multiplayer," wrote Nintendo on Twitter, "and will be removing Gold Races. (only available to Mario Kart Tour Gold Pass subscribers; see the in-game notification for more details) ". Wait for more information at the beginning of September! ".
It seems credible that this novelty is the Battle Mode that was found in the game files a couple of months ago.
Mario Kart Tour's Battle Mode was found by dataminers, who also found sound effects from various routes Furthermore, the update of September 2022 coin will cider with the third anniversary of the game, so it would make sense to propose a big news right at that moment.
For now we don't know anything more, but it shouldn't be too long for news to arrive. Tell us, are you playing Mario Kart Tour? Or do you prefer the new
Mario Kart 8 Deluxe
courses.
Source Have you noticed any errors?