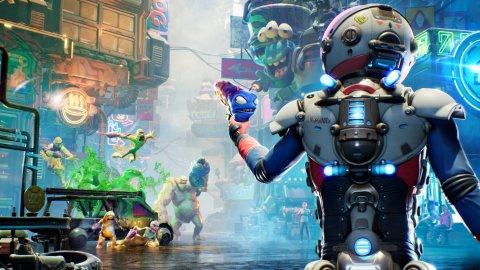 High on Life
The YouTube channel GameXplain has published a video with about 35 minutes of gameplay of High on Life, a first-person shooter that is gaining
more and more
credit among gamers, who obviously find it very nice (it was written by the authors of Rick & Morty) .
The video shows practically the entire demo of the game. It starts at the protagonist's house where we find an alien lying on the sofa and weapons and characters talk to each other. Then you start wandering through the streets of a large city full of creatures from who knows what worlds. After a short tour and some other dialogue, the game takes us to the slums, where we start shooting and where we can see the solving of some simple puzzles using the talking gun. The start is
a lot of
dialogue, but in the second part of the video we can see the first real shootings, up to the clash with the boss also seen
at Gamescom 2022
. Victory concludes the demo.
For the rest we remind you that High on Life will be released on December 13, 2022 on PC and
Xbox
console. The
game will be
available from launch on Game Pass.
Have you noticed any errors?
---
'High on Life' Releases 25-Minute In-Depth Gameplay Trailer
Shortly after giving Rick and Morty fans a look at the first boss fight in series creator Justin Roiland's upcoming game High on Life, Squanch Studios has now dropped an in-depth 25-minute trailer showcasing some of the title's first missions. The new trailer also comes after the developer announced that its original October release date will now be slightly delayed to December.
As for the game itself, High on Life puts players in a weird and vibrant sci-fi world where you'll have to protect other humans from being used by alien cartels to create drugs. In true Rick and Morty style, you'll be wielding a series of talking guns that continuously spew rather colorful language while you take on your foes.
'Fresh out of high school with no job and no ambition, you've really got nothing going for you until an alien cartel that wants to get high off humanity invades Earth,' reads the game's description. 'Now, you and a team of charismatic talking guns must answer the hero's call and become the deadliest intergalactic bounty hunter the cosmos has ever seen.'
For those interested, High on Life will arrive on December 13 as an Xbox and PC exclusive.
Elsewhere in gaming, you can now play as Kermit the Frog in Marvel's Spider-Man thanks to a new fan mod.