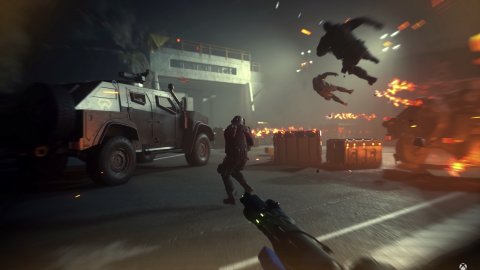 CrossfireX
CrossfireX has just been released on
Xbox
, but various issues have emerged early on. The bugs are so bad that executive producer - Sooro Boo - wrote a letter to fans to apologize and explain the situation.
Boo explains three problems related to CrossfireX: the control system sensitivity problem, the management of the Boogieman and problems with the CAR-4.
It is said that the aiming control system is subject to a bug, but part of the question is related to the peculiarity of CrossofireX: the players have in fact the feeling of not being able to control the recoil of the weapons and this difficulty it will not be completely removed; the aiming correction system will be enhanced, but for some players it will still be complex to manage.
As for the Boogieman, it is confirmed that it is too powerful: the ability to self-heal will be removed and
it will be
eliminated the ability to continue earning points.
One of the characters from CrossfireX Finally, it is confirmed that the CAR-4 weapon is subject to a bug that creates problems with aiming and shooting. The bug has already been fixed, however, so the correction will be introduced at the next patch.
In recent days we have been talking about the problems at the launch of CrossfireX that does not work on Game Pass, where however only the campaign is available.
Source Have you noticed any errors?
---
CrossFireX Launch Woes Addressed in a New Developer Update
News
Published on February 14, 2022 Alex Gibson
Korean developer Smilegate's launch of CrossFireX on Xbox consoles has been long-awaited, but its arrival has been plagued by a number of frustrating performance issues. So much so, in fact, that executive producer Sooro Boo has issued an apology to fans and delivered an update as to the immediate future of the game.
'Mr. Boo,' as he's known admits in this latest update that Smilegate has "inadvertently disappointed many of our players and fans" by launching CrossFireX in its current state before highlighting the developer's plan of action to tackle a number of key concerns. Here's the overview:
1. Controller Sensitivity Issues
What's Happening:
Random fluctuation of the dead zone radius, input delay, acceleration instability with the right analog stick, aim dropping with no change to the sensitivity settings
What We're Doing:
All of the development work to resolve the issues is complete and we expect to be able to apply this patch few weeks earlier than our previously announced date of early March (pending update process).
Explanation
The current controller issue is an unfortunate combination of the added difficulty inherent to Crossfire with its stronger recoil compared to other shooters and the bugs/issues mentioned above. While the bugs and issues will be fixed shortly, the difficulty level of the stronger recoil will still remain. We are planning to lessen the impact of this with making the aim assist slightly stronger (slightly wider radius), but some players may still feel that it's difficult to account and adjust for the recoil.
Stronger recoil and learning to control it has been a classic hallmark of the Crossfire franchise and we see it as part of the fun. Having said that, if these difficulties prove to be too much and act as a detriment to the overall enjoyment of the game, we'll continue to engage with our players and continue to finetune – provided that it doesn't water down the fun of the Crossfire experience too much.
Also, heads up – this upcoming patch will change the default sensitivity settings, so please make sure to tweak and finetune it even further if it's not exactly to your liking! We've tried to set the default values to what most players would prefer, but if there's one thing we've learned through all this, it's that what we believe you want and what you actually want can be quite different. This is why we'll still be adding control customization options in our early March update on top of this expedited patch.
2. Balance Improvements for the "Boogieman"
What's Happening:
Our current development approach is to implement the kill/death streak system on fast-paced maps across our modes. Having said that, the "Boogieman" didn't quite go well with GR Tower's map design and ended up being overpowered.
What We're Doing:
To balance this, we will remove the auto-heal feature, as well as the ability to continue earning growth points when playing as the Boogieman. This means you'll be seeing them a whole lot less. This will be applied in the expedited patch with the control improvements, which we again expect to be able to deliver few weeks ahead of our early March update.
3. CAR-4 ADS Issue
What's Happening:
There is an issue where aiming down with CAR-4 and firing can cause you to leave ADS. CAR-4 is one of the starter guns and as a result, this issue has affected many of our players, which is why we wanted this bug fix to be expedited.
What We're Doing:
This bug has been resolved and will be applied in the next expedited patch as well.
There will always be bugs and various issues when it comes to video games, but we felt that CrossfireX's current issues had to do more with the core fundamentals of the game and that it felt like we've betrayed the trust of our players. There is simply no excuse for this, which is why I wanted to make a personal apology and explain exactly what the issues are and how we plan to overcome them.
We will continue to be transparent and engage with you, our valued players, and hope to regain your trust again.
Thank you.
CrossFireX is a console remake of CrossFire, the popular 2007 Counter-Strike clone. It is available exclusively on Xbox One, Series X/S. The game is best known for its multiplayer modes, but CrossFireX comes with a new campaign developed by Remedy Entertainment. CrossFireX was first revealed during X019.