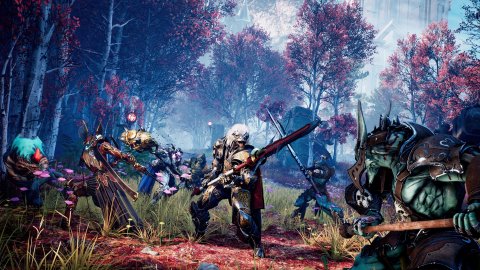 Counterplay Games works on a cooperative action shooter
Counterplay Games, the studio behind Godfall, is currently working on a new IP, a cooperative-based fantasy action shooter, according to the latest job advertisements.
The studio's website has actually opened applications for various available positions. The job posting for the producer role mentions an "unannounced cooperative action fantasy shooter". While in that for the position of senior writer we talk about creating the narrative of a new IP.
Counterplay Games, moreover,
is looking for
an engineer "specialized in next-gen platforms" to "implement and maintain systems and tools to support development on next-gen consoles ", which would seem to suggest a cross-platform project and only for next-generation consoles.
Godfall, a promotional image In other announcements we also talk about the fact that the new IP is "heavily focused on combat" and will feature "synchronized multi-character animations," or finishers. In any case, at the moment the works would seem to be still in an embryonic phase, so we may have to wait a long time before learning more about the new game from Counterplay Games.
The latest work from the studio was Godfall, released by Gearbox Software, for
PS5
, PC and later
PS4
. It is an action RPG game that, despite the good initial premises, failed to completely convince players and critics. To find out more, here's our Godfall review.
Source Did you notice any errors?