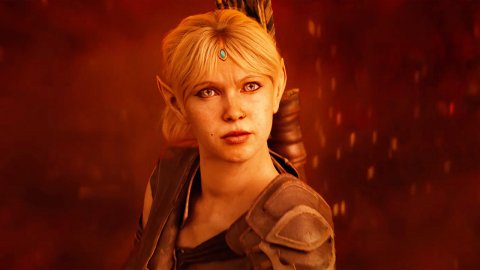 The Elder Scrolls Online
Zenimax Online has announced the arrival on November 1, 2021 of The Elder Scrolls Online: Deadlands, the final DLC of the 2021 campaign, in which the gates of Oblivion will be closed. More precisely, the DLC will arrive on November 1st for gamers on PC / Mac and Stadia and on November 16th for gamers
on Xbox Series X
| S, Xbox One,
PlayStation
5 and PlayStation 4.
Read more Details from Official Press Release:
Witness the disastrous conclusion to the annual Gates of Oblivion adventure in The Elder Scrolls Online: Deadlands. Travel to hitherto unexplored worlds, discover new and unusual allies, and stop Dagon from conquering Nirn in this fast-paced 20-hour finale.
Anyone who has played The Elder Scrolls IV: Oblivion before will recognize parts of the Deadlands. The Burn is an area filled with glowing rivers, fiery beasts and metal spiers. For the first time in an Elder Scrolls game, players will be able to venture into a new area of ​​the Deadlands called The Sever, a region swept by terrible storms and raging winds.
Finally, not even a Daedric prince can conquer the latter region of the Deadlands: Fargrave is one of the largest cities in The Elder Scrolls Online, a mystical and deserted metropolis clad in a huge skeleton. It is a city where the player can create, buy and sell goods while traveling between realms. Before visiting this metropolis, ask yourself one thing: what is valuable for those who do not need to eat, drink or sleep?
Since its launch in 2014, more than 19 million players from 240 different nations have tried The Elder Scrolls Online. To enrich the gaming experience even more, we will add Spanish translation to ESO supported languages. This means that all text and subtitles for the game will be localized in Spanish, including all past, present and future content from The Elder Scrolls Online.
Players can purchase the Deadlands Pack from the in-game Crown Store, while it is included for ESO Plus subscribers. The new DLC will be available from November 1st on PC / Mac and Stadia and will arrive on Xbox Series X | S, Xbox One, PlayStation 5 and PlayStation 4 on November 16th. To read the full update notes for Update 32, please remember to keep an eye on our official forum.
Have you noticed any errors?
---
The Elder Scrolls Online: Deadlands concludes the MMO's Oblivion storyline
Join gaming leaders online at GamesBeat Summit Next this upcoming November 9-10. Learn more about what comes next. 
Zenimax Online Studios announced today the next DLC for The Elder Scrolls Online, Deadlands, will release on November 1 for PC and Stadia and November 16 for PlayStation 5, Xbox Series X/S, PlayStation 4, and Xbox One.
This will conclude the MMO's yearlong Gates of Oblivion storyline. The finale will include about 20 hours of new story content, which continues to take inspiration from 2006's The Elder Scrolls IV: Oblivion.
The Elder Scrolls Online launched in 2014. Although it had a rocky start, the MMO has developed a following of loyal fans. It has attracted over 19 million players.
The constant release of new story content, dungeons, and zones through DLC like this has helped keep the game relevant while giving publisher Bethesda a steady revenue stream. Players can get access to Deadlands if they subscribe to ESO Plus or they can buy it separately.
GamesBeatGamesBeat's creed when covering the game industry is 'where passion meets business.' What does this mean? We want to tell you how the news matters to you -- not just as a decision-maker at a game studio, but also as a fan of games. Whether you read our articles, listen to our podcasts, or watch our videos, GamesBeat will help you learn about the industry and enjoy engaging with it. How will you do that? Membership includes access to:
Newsletters, such as DeanBeat
The wonderful, educational, and fun speakers at our events
Networking opportunities
Special members-only interviews, chats, and 'open office' events with GamesBeat staff
Chatting with community members, GamesBeat staff, and other guests in our Discord
And maybe even a fun prize or two
Introductions to like-minded parties
Become a member