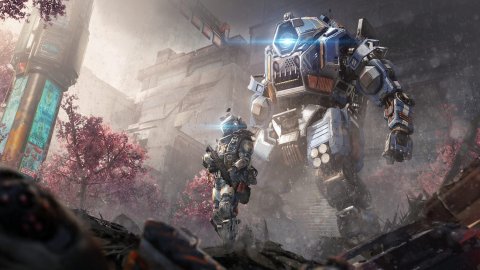 Titanfall 2
The new Legend arriving in
Apex Legends
Season 9, recently unveiled, is a
new character
, Valkyrie. The character is linked to the events of
Titanfall 2
, Respawn's first-person shooter, set in the same narrative universe. After this announcement, players en masse decided to take Titanfall 2 back into their hands (or play it for the first time). The consequence was a + 737% of players on Steam alone.
On Steam, in fact, Titanfall 2 players averaged around 2,000. The announcement, however, has skyrocketed the number of active users, reaching a peak of 16,732 contemporary players on the Valve platform. Obviously, console players should also be added to these, but we cannot find out the numbers.
Titanfall 2 In absolute value, the numbers recorded by Titanfall 2 these days may not seem enormous, but we must not forget that we're talking about a 2016 game that doesn't have much more to say now. The public, understandably, had mostly abandoned it, not least because a third chapter doesn't seem highly likely, at least not in the short term.
Obviously we don't know how long this interest in Titanfall 2 will last. Some players may abandon it after a few online games, while others may just complete the campaign, catch up with the story, and then move on without too much thought.
At least, we know that Apex Legends isn't everything: Respawn works on a new intellectual property.
Source Have you noticed any errors?
---
Titanfall 2, Battlefront 2, and more EA titles join Xbox's FPS Boost program
© Provided by GamePur
In February, Microsoft announced a new program called FPS Boost on next-gen Xbox consoles. This gave players the ability to play games like Fallout 4, Watch Dogs 2, and others at a higher framerate. At the time, they announced that more games would be coming to the program soon, and now, they've delivered on that promise.
The next slate of games all come courtesy of Electronic Arts. That also means they are all available through EA Play via Xbox Game Pass Ultimate. Nearly all of the games support 120hz on Xbox Series X if your monitor has that capability. Sea of Solitude is the one holdout that can only hit 60hz no matter which console you're using. Below you'll find the full list of titles with FPS Boost enabled:
Battlefield 1
Battlefield 4
Battlefield V
Mirror's Edge Catalyst
Plants vs. Zombies Garden Warfare
Plants vs. Zombies: Battle for Neighborville
Plants vs. Zombies Garden Warfare 2
Sea of Solitude
Star Wars Battlefront
Star Wars Battlefront 2
Titanfall
Titanfall 2
Unravel 2
As we move forward through the consoles life cycle, expect to see even more games added to the program. Microsoft makes it clear in their blog post that the list "will be updated regularly", and we've already seen them add games in back-to-back months. This will likely be a regular thing going forward, which is great news for players hoping to jump back into older games.
The post Titanfall 2, Battlefront 2, and more EA titles join Xbox's FPS Boost program appeared first on Gamepur.