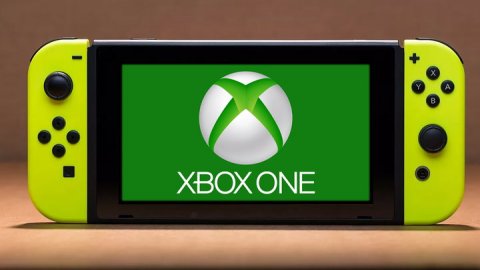 Nintendo and Xbox have a shared announcement scheduled for fall
As we have reported, in the last few days there is more and more talk about the infamous shelf of Phil Spencer, head of
Xbox
, who has long taken the habit of hiding in the background of his office a series of objects that suggest the arrival of announcements . For example, Spencer had shown
Xbox Series S
even before the official reveal and no one had noticed. Now, we are talking about
Nintendo
Switch and an announcement shared with Xbox.
In a recent live, it was possible to see a Nintendo Switch in the background. The console would also have meaning and, according to well-known Xbox insider Ed Shpeshal, this indicates an announcement shared between the two companies. The announcement should take place next autumn, as reported.
What is it about? For now we do not know and we believe that it will not be revealed anytime soon, not even through leaks.
Microsoft
and Nintendo have had a long-standing relationship of trust and collaboration. In fact, Ori and the Blind Forest was also released on Nintendo Switch, plus characters like Banjo-Kazooie and Steve (from Minecraft) have arrived in
Super Smash Bros
. Ultimate.
For some time we have been talking about the possibility of the arrival of Game Pass also on Switch. The advantage for Microsoft would be clear, while the reason why Nintendo should accept the agreement is less evident (apart from the pure profit).
As always, remember that we are only talking about leaks and rumors, not of official information. Xbox and Nintendo have not announced anything about it, so for now we can only wait. We know that, as far as the Japanese company is concerned, "
new games and new
series" are planned, not just Mario and Zelda.
Source Did you notice any errors?
---
Epic Games Buys 'Fall Guys' Developer Mediatonic
Fortnite developer Epic Games has purchased Tonic Games Group, the parent company of Fall Guys developer Mediatonic.
"It's no secret that Epic is invested in building the metaverse and Tonic Games shares this goal," Epic Games CEO Tim Sweeney said in a statement announcing the purchase. "As Epic works to build this virtual future, we need great creative talent who know how to build powerful games, content and experiences."
The companies did not disclose terms of the deal.
Released in August of 2020 and nominated for best indie and best multiplayer (among other noms) at The Game Awards in November, platformer battle royale Fall Guys typically attracts over 18 million monthly users and is a massive competitor to Fortnite, which topped 350 million registered users last year and frequently crosses over with Hollywood through short-film festivals, in-game movie screenings and trailer debuts.
Mediatonic shared in its announcement that the Fall Guys development team has grown from 35 to 150 people. "Yet, there is so much more we want to build for our players," the company said.
Epic noted in its blog post that Fall Guys players should not expect their gameplay experience to change following the acquisition. "Epic will continue to invest in making the game a great experience for players across platforms," the company said. Amid the acquisition, Fall Guys: Ultimate Knockout — currently in its third season and teasing a futuristic theme for the next update — will remain purchasable on Steam and PlayStation for those who purchased the game on those platforms.
"At Tonic Games Group we often say that 'everyone deserves a game that feels like it was made for them.' With Epic, we feel like we have found a home that was made for us," Tonic Games Group co-founder and CEO Dave Bailey said in a statement. "They share our mission to build and support games that have a positive impact, empower others and stand the test of time and we couldn't be more excited to be joining forces with their team."
Mediatonic noted in its blog post that there are plans for Fall Guys to become available on Nintendo Switch and Xbox. There was no indication whether Fall Guys, currently a paid game, will move to a free-to-play model.
Among past acquisitions, Epic Games in 2019 purchasedRocket League studio Psyonix, which was developed on its Unreal Engine 3.