Super Smash Bros. Ultimate, version 11.0.0 update available, details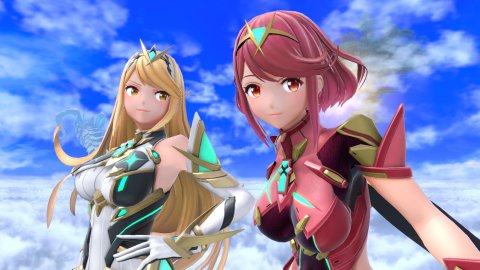 Super Smash Bros. Ultimate
Super Smash Bros
. Ultimate has obtained the new 11.0.0 update, which brings the software to the new version including all the precautions due to the introduction of the new characters, probably, but there are also several news to report, as shown by the official details .
With the arrival of Pyra and Mythra, the roster is further expanding to host the two fighters from the Xenoblade Chronicles universe, but they are not the only new features foreseen with this 11.0.0 update, as we can see also from the patch notes published by
Nintendo
.
For more information on Pyra and Mythra, please refer to the dedicated Special, while we report below something on the main features of the update.
Offline
The following spirits will appear in the Shop:
Lora Amalthus Jin Malos Pneuma
It is also possible to change the spirit of Rex and disconnect the controllers in the selection of the characters.
General
The following downloadable content is
available for purchase
:
Pyra / Mythra Challenger Pack Arthur's Helm + Armor Felyne Hat Hunter's Helm + Mail Rathalos Helm + Mail
Toad Power-up Band amiibo is also supported, allowing you to unlock a reward. In addition to all this, some balance adjustments have been made and several previously detected problems and bugs fixed.
Pyra and Mythra are the new dual introduction to the Super Smash Bros. Ultimate roster. Source
---
Super Smash Bros. Ultimate's newest DLC fighters, Pyra and Mythra, will be available today
Super Smash Bros. Ultimate's newest DLC characters, Pyra and Mythra from Xenoblade Chronicles 2, will be available in the game on Thursday, Nintendo announced. They're included as part of the second Super Smash Bros. Ultimate Fighters Pass, or you can buy them separately for $5.99.
Series director Masahiro Sakurai showed off the new fighters in a video presentation Thursday morning. Pyra's moves do more damage while Mythra moves faster and jumps higher, and you'll be able to switch between the two fighters whenever you want during a match.
If you get the new fighters, you'll also be able to play on a new stage from Xenoblade Chronicles 2, the Cloud Sea of Alrest, where you ride on the back of a giant monster traveling through the sky. Pyra and Mythra also come with new songs from Xenoblade Chronicles 2.
And if you were curious, here's what Kirby looks like when you copy Pyra and Mythra's powers:
Pyra and Mythra join Min Min from Arms, Steve and Alex from Minecraft, and Sephiroth from Final Fantasy VII in the second Super Smash Bros. Ultimate Fighters Pass. Nintendo plans to release two more characters for the pass.