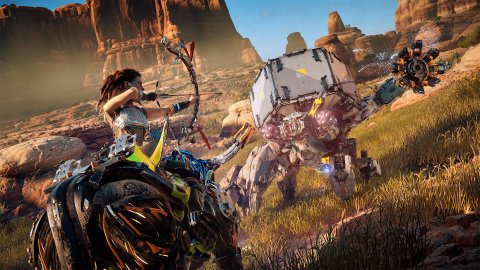 Horizon Zero Dawn free on PS4 and PS5 from tomorrow for everyone
Horizon Zero Dawn remains one of the most technically impressive games on
PS4
, available for free with Play at Home Horizon Zero Dawn will be free starting tomorrow, April 20, 2021,
on PS4 and PS5
as part of the Play at Home initiative, organized by Sony to encourage people to stay at home and respect social distancing, now in its second batch of games.
After offering Ratchet & Clank, from tomorrow it will be the turn of Horizon Zero Dawn: the open world action of Guerrilla can be played for free by downloading from 5:00 am on Tuesday 20 April 2021, remaining available until 5:00 on 15 May 2021.
The download will be free for everyone, without the need for a subscription to
PlayStation
Plus or similar, you just need to have a PS4 or PS5, an account to access the
PlayStation Store
and download the game from the page dedicated to this address.
We also remember that the game Guerrilla is the protagonist in these days of the Fortnite X Horizon Zero Dawn event, with Aloy who has been introduced within the Epic Games game with a dedicated skin, weapons, objects and themed events.
Waiting for the 'arrival of
Horizon Forbidden West
, the new chapter of the series announced for
PS5 and PS4
and coming (at least according to what has been reported so far by Sony) in the second half of 2021, in case you have not yet played the first chapter this is an excellent opportunity to do so, considering that it is completely free and without the need for any subscription to access it.
Have you noticed any errors?
---
© Guerrilla Games/Sony Interactive Entertainment
Horizon Zero Dawn, plus another nine indie games, will be free to everyone with a PlayStation 4 or PlayStation 5, beginning next month, as Sony expands its efforts to support folks keeping safe and socially distant in the final stages of the COVID-19 pandemic.
Horizon Zero Dawn Complete Edition will be available free between April 19, at 8 p.m. PDT, and 8 p.m. on May 14. A PlayStation Plus subscription is not necessary to access the game.
Horizon Zero Dawn follows Ratchet & Clank (2016), made available at the beginning of March to anyone with a PlayStation console. Ratchet & Clank is available until March 31 at 8 p.m. PDT.
Beginning March 25, players will also get access to nine more games, five of them for PlayStation 4/PS5 and four for PlayStation VR. They are: Abzu, Enter the Gungeon, Rez Infinite, Subnautica, and The Witness for standard consoles; and Astro Bot Rescue Mission, Moss, Thumper and Paper Beast for PlayStation VR. Those nine games will be available until 8 p.m. PDT on April 22.