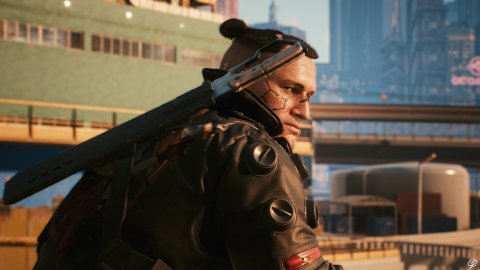 Cyberpunk 2077
A new
Cyberpunk 2077 leak
seems to reveal interesting news about an expansion of the game. A dataminer has in fact revealed that he has exploited the Epic Inspector - a datamining tool used to access the developer tools for the Epic Game Store - and has found new information on a content coming to the CD Projekt RED game, including release date and weight of the DLC
According to the leaker, in the
Epic Games Store
there is a "content1", within the "Versions" category of Cyberpunk 2077. It would therefore be an expansion of contents to be introduced as update (therefore probably free). The leaker's idea is that this is an update designed to reintroduce content cut at launch. More interesting, however, the release date: June 10, 2021. It would be news coming in the short term, then.
Cyberpunk 2077 As for the weight of this expansion, the leaker claims that all DLCs have a maximum limit of space reserved on the Epic Games Store. Thanks to this information, we can find that the weight should be between 20 and 30 GB, at the most. Cyberpunk 2077 would therefore receive a fairly substantial update.
All the information reported by the leaker is credible, but the fact remains that it is leaks and not official information. Furthermore, it is possible that the release date is provisional and that some development problems push CD Projekt RED to postpone its release (and therefore the announcement). Cyberpunk 2077 is ever expanding, that's for sure.
Also, we've found that refunds are larger than previously believed, here are the updated Cyberpunk 2077 figures.
Source You've noticed errors ?
---
'Cyberpunk 2077' Is Moving Away From Bug Fixes, On To New Content
Cyberpunk 2077
CDPR
While Cyberpunk 2077 is still littered with bugs, CDPR has understood that they can't work on them forever, and they've revealed they've been shifting much of their current team on to making fresh content for the game.
I believe the split announced in the recent earnings call was that 40% of the Cyberpunk team was now working on fixes for the game, while the other 60% is working on new content, and those numbers used to be very lopsided in the other direction, and will continue to shift toward more and more of the team working on new content alone.
After every patch, Cyberpunk players are quick to point out a zillion bugs that still exist within the game, so there's always work to be done, even after massive patches like 1.2 which had something like 500 issues fixed. The major end goals for CDPR are to A) get Sony to let Cyberpunk back on the PlayStation store, but it's unclear how many bugs it needs to fix or how much it has to improve performance for that to happen, but really also B) get past the narrative that Cyberpunk is a buggy, unfinished game, and putting out enough fixes so it feels "complete" before new content arrives.
What is that new content? It's likely split into two things, the promised free DLC that is supposed to be out before the end of the first half of 2021, and recent leaks point to maybe June as a possible release date for that content. But also the plan appears to be to continue on with the idea that Cyberpunk will get substantive expansions, Witcher-style paid DLC, in the future, though not until next year at the earliest.
Cyberpunk 2077
CDPR
I do wonder if the multiplayer Night City game they had planned being cancelled has allowed for a lot of workers to go back to working on Cyberpunk proper, so this could bode well for both paid and free DLC content.
We have gotten at least some hints about the coming free DLC through datamining, and there appear to be a lot of additions like new clothes, cars and cyberware. The game itself is teasing some things too, like the empty attribute slot now displaying a "Relic" logo after the latest patch, and datamining said that the term Relic was a label for something in the coming free DLCs.
As for larger expansions? That's anyone's guess. Cyberpunk left so many loose ends open that it could be any number of things, like a return to fan-favorite characters like Judy or Panam, or exploring seemingly cut characters like Morgan Blackhand or aborted storylines like Mr. Blue Eyes. But we've heard absolutely nothing about what future expansions will contain, datamined or otherwise. It's just too early for that.
New content is the only thing that would get me to engage with Cyberpunk again at this point, as bug fixes aren't really something to come back for unless you're stuck on a very specific mission. We'll see what this focus on new content brings, though likely not for a little while yet.
Follow me on Twitter, YouTube, Facebook and Instagram.
Subscribe to my free weekly content round-up newsletter, God Rolls.
Pick up my sci-fi novels the Herokiller series, and The Earthborn Trilogy, which is also on audiobook.