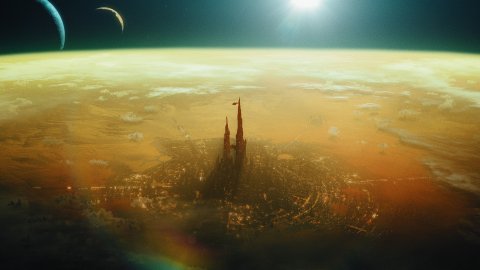 Warhammer 40,000
Fatshark has released a
new trailer for
Warhammer 40,000: Darktide, the new action coming November 30, 2022 on PC and
Xbox Series X
| S, focused on the world and the story that characterize the new chapter, elements that are very well characterized.
Video shows an Imperial ship reaching the Hive City of Tertium, where the Empire's inquisitors must act to end a dangerous Chaos infiltration. The story and characters were outlined by Dan Abnett, a well-known author of novels and graphic novels set in the Warhammer and Warhammer 40,000 universe, so we can expect considerable depth and fidelity to the reference material.
The story and the game world, on the other hand, are destined to change and evolve over time, in line with the live service essence of Warhammer 40,000: Darktide, which will progressively get new evolutions, expansions, updates and news on a regular basis, being a game fundamentally based on online multiplayer.
We recall that Warhammer 40.000: Darktide follows the formula already adopted in Warhammer: Vermintide 2 in particular, of which it represents a sort of sequel, characterized however by the setting of the universe of Warhammer 40,000.
It is therefore a cooperative multiplayer in which four players must face various threats, impersonating fighters belonging to the q four classes Veteran, Zealot, Ogryn and Psyker, all with some degree of progression and additional customization from users. Of these, we recently saw the trailer on the Veteran: Sharpshooter character classes, after the one on the Zealot: Preacher class, to get an idea of ​​what these categories are.
Warhammer 40,000: Darktide has early access from November 17th for pre-orderers, while the launch is set for November 30th on PC and Xbox Series X | S, directly
on Xbox Game Pass
on day one.
Have you noticed any errors?