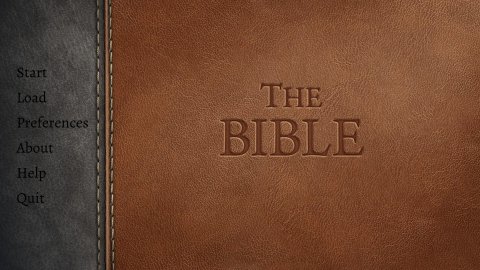 The Bible Comes to Steam
Steam
is preparing to
welcome one of the world's greatest best sellers into its catalog, with the arrival of The Bible, a title defined as a "kinetic novel" that contains the entire sacred text of Christianity (and not only) beyond to various extras such as voice support, quizzes and achievements to unlock.
As also reported in the official trailer, visible on the page of The Bible on Steam, the software contains all 66 books that make up "the greatest story ever told ", again on the basis of the spectacular presentation video.
The Bible, the initial screen To tell the truth they are a little less than all those that traditionally make up the
Old and New
Testaments, so there was perhaps a selection or they belong to some specific tradition.
In any case, it is a title that cannot be missing in the collection of a good Christian, of course: in addition to being able to read the text with a lot of audio vocal support, inside we also find the Trivia section with curiosity and quizzes, as well as various unlockable objectives with which we will be able to demonstrate to everyone our knowledge about the history of Christianity.
The developers define it as a "kinetic novel", that is a digital reconstruction of the entire original text, with the possibility of reading it all in order or saving some passages to be able to review them later and more calmly. The release is scheduled for November 14, 2022, and despite the period somewhat full of news we are sure that it will carve out a special place among the releases of Steam, being on the other hand the videogame adaptation of the most famous book in the world.
Apart from the obvious jokes that can emerge from such an initiative, the idea nevertheless has an important intent: it is in fact trying to make the text in question more easily usable, with the desire to expand public accessibility to the Bible. The objectives are not present at launch, but the developers have assured that they
will be in
troduced later.
Source Did you notice any errors?