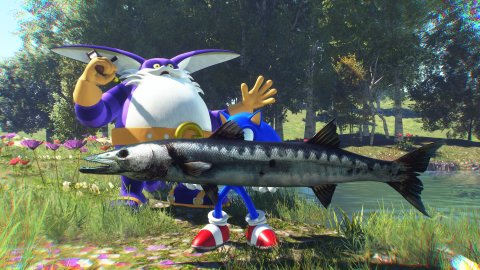 Sonic Frontiers
November 2022 is a month full of heavy releases and one of the first big names in the gaming world ready to give us a new game is Sonic.
Sega
is in fact about to publish Sonic Frontiers, a 3D platform game that revolutionizes the classic formula. How did things go? You can find out in our Sonic Frontiers review. In addition, the international reviews are obviously online and
we can now
see what the rest of the world thinks.
The votes of Sonic Frontiers shown through Opencritic are the following:
geekinco - ​​8 / 10 Shacknews 9/10 Attack of the Fanboy 4.5 / 5 We Got This Covered 4.5 / 5 GamingTrend 85/100 Checkpoint Gaming 8.5 / 10 Hobby Consolas 82/100 Metro GameCentral 8/10 Game Rant 4/5 Push Square 8/10 PSX Brasil 80/100 Worth Playing 8/10 Kakuchopurei 80/100 TheGamer 4/5 VGC 4/5 Game Informer 7.8 / 10 Easy Allies 7.5 / 10 Press Start 7.5 / 10 IGN 7/10 GameSpot 7/10 Twinfinite 3.5 / 5 Inverse 7 / 10 TrueGaming 6/10 AusGamers 5.5 / 10 GamesRadar + 2/5 Digital Trends 1/5
The average on Opencritic for Sonic Frontiers at the time of writing this news is: 74/100. As always, the figure may change over the hours and days as new reviews pop up online. The ratings are very different depending on the newspaper: we find in fact a 4.5 / 5 (like a 9/10) as well as a 1/5 (a 2/10 in practice).
In our review we explained to you that "Sonic Frontiers is the game of a rescue that many have been waiting for for twenty and more years. Finally the Sonic Team has figured out how to translate its most famous series into a three-dimensional context, but now it is necessary to raise the quality of everything else. It is precisely the outline that damages a game that certainly deserved more, especially more refinement and more attention to certain damn details. If you are looking for something fast, fresh and fun, if you are looking for a platform game different from the usual
Nintendo
, probably
Sonic Frontiers will
be able to satisfy all your needs. It is also a rather substantial game: it takes about twenty hours to get to the end and surely
there are those who
will spend more. : text and voices are completely in Italian. "
Tell us, what do you think of Sonic Frontiers at the moment? Are you interested in buying it, or have you decided to prioritize something else for the moment?
Have you noticed any errors?