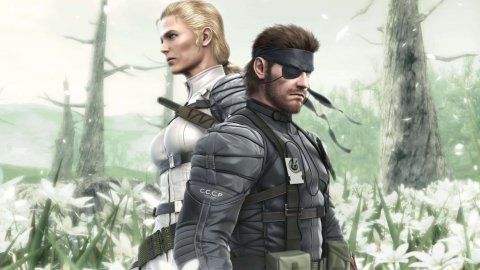 Metal Gear Solid remake, other rumors about the Virtuos team
The rumors continue on the possible remake of
Metal Gear Solid
, given that Virtuos, or the team that according to the latest rumors was in charge of the work, has shown a precise connection with Konami, which appears to be among the partner companies on the official website. br>
As we have previously reported, the idea that there was a Metal Gear Solid 3 Remake coming from Virtuos seemed corroborated by a video with elements that seemed to recall the setting and atmosphere of the third installment of the series.
Metal Gear Solid 3, an artwork of the Konami game However, it was later discovered that this video was actually built with pre-built assets for Unreal Engine, making the theory hard to believe.
However, the issue was recently resumed because Konami, according to what reported on the official Virtuos website, appears to be among the companies that have commissioned a work to the development team. Furthermore, among the engines referred to as software used by the developers there is also the FOX Engine, which is Konami's proprietary graphics engine previously used for Metal Gear Solid V and which was to be the new technological base of the series, before the abandonment of Kojima Productions. You can see the screenshots taken on the site that report both clues to this address.
Also reported on Reddit, Konami has no previous publicly registered work with Virtuos and the addition of the FOX Engine seems recent. If this information were verified, it would be rather substantial clues on the possibility of a project on Metal Gear Solid entrusted to the team in question, which so far has mainly dealt with support for various productions, including large-caliber ones, such as
Horizon Forbidden West
,
Marvel
's Guardians of the Galaxy and Back 4 Blood, to name a few. For the moment, in any case, we will limit ourselves to including these reports among the unverified rumors.
Source Have you noticed any errors?