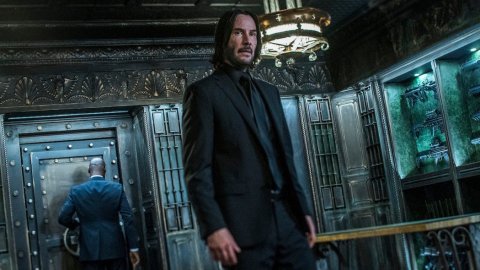 John Wick
John Wick will have a TV series that will act as a prequel and spin-off of the film series: titled The Continental,
it will be
a story centered on the hotel made famous by the saga starring Keanu Reeves and will be broadcast by
Amazon Prime
Video. >
The series has been moved from Stars to Peacock, but outside the US the distribution rights have passed into the hands of Amazon, thus making Prime Video the place where this
will also be
visible in Europe, according to the new deals, while Peacock retains US rights.
The Continental is a three-episode mini series but stages a story of sizeable scale, unfolding over the course of three nights.
Joun Wick in a scene from the film, inside The Continental hotel The protagonist is Colind Woodell in the role of Winston, a character who is normally played by Ian McShane in all John Wick films but for whom evidently they have opted for a change.
Ayomide Adegum will play a younger version of Charon, the character who is instead played by Lance Reddick in the movies, given the time shift of the events that are narrated in the new TV series . "John Wick's films have created one of the most interesting, detailed and enjoyable universes we have seen in the past decade," said Prime Video director Chris Mansolillo, "We are extremely proud to be a part of this universe and to continue building it. and expand it, offering viewers an insight into the origins of the infamous Continental Hotel and its incredible characters. "
There are no precise release dates yet but the expected period is still 2023, with The Continental which should represent a major event for next year's Amazon Prime Video lineup. The cast also includes Mel Gibson, Ben Robson, Hubert Point-Du Jour, Jessica Allain, Mishel Prada, Nhung Kate and Peter Greene.
As for the film series, of John Wick 4 we have seen the first official trailer from Comic-Con revealing title and various scenes.
Source Did you notice any errors?