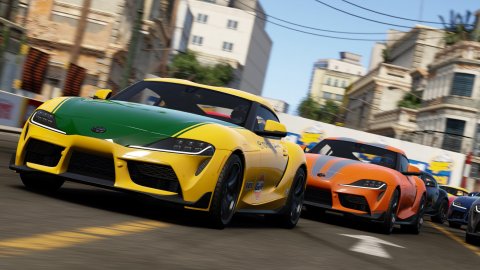 EA cancels Project CARS series
EA has decided to permanently abandon the Project CARS franchise and therefore will block the "development and further investment" for new games in the Slighty Mad Studios racing series.
The news comes from the pages of GamesIndustry.biz, where the company has confirmed this drastic decision. EA says employees working on Project CARS will be relocated into roles "suited" to their skills "where possible", with a promise to "provide as much support as
possible to
staff during this transition." Slighty Mad Studios in 2019 had a staff of 150 people.
An image of Project Cars 3 Electronic Arts has made the decision to completely cancel the Project CARS series after the
acquisition of
Codemasters
, considering it unlikely that the franchise would become successful or obtain a popularity comparable to other brands of racing games in its possession.
An EA spokesperson told GamesIndustry: "Today we announced internally an update to our racing game portfolio. Following an evaluation of the upcoming Project CARS and its potential to long-term growth, we have decided to stop development and investments for the franchise ".
The EA spokesperson added that the company will focus more on IP based on official licenses and open world games, with the 'intention to create lasting
live service
s that we know involve large communities of players.
"Decisions like these are very difficult, but they allow us to prioritize areas that we believe may have more opportunities to create experiences that our players will enjoy. We are focusing on our strengths when it comes to gaming racing, particularly on licensed IP and open world experiences, and expanding our franchises to be more socially focused and with long-term live services that engage global communities. "
The first Project CARS launched on PC,
Xbox
One, and
PS4
in 2015, with a sequel hitting stores two years later. Project CARS 3 launched in 2020, but was significantly less successful than previous iterations of the series.
Source Did you notice any errors?