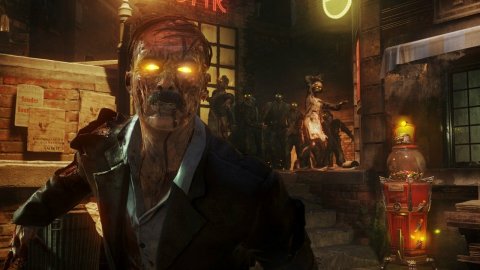 Will Call of Duty
In addition to
Call of Duty
: Moder Warfare 2, Warzone 2 and Warzone Mobile, Activision
Blizzard
's future plans may also include a standalone game entirely focused on Zombies mode. Various rumors have been circulating in recent months, which have recently intensified due to a series of job advertisements published by Activision Blizzard and the statements of Kevin Drew of Treyarch.
Treyarch, who created the first iteration of the brain-eaters of Call of Duty, intends to expand its team by recruiting new developers, with the aim of completing "big projects for Zombies", as revealed by the studio's associate design director, Kevin Drew, on Twitter. The open positions are numerous and range between various departments, from engineering, through the art and animation sector, to user interface and user experience specialists.
"We have big plans for Zombies and we want to grow the team to make them come true. There are numerous open positions at various levels of experience, so it's a great time to apply if you're interested!" Drew.
A possible standalone Call of Duty: Zombies was suggested last year by Tom Henderson, a journalist and well-known insider usually well informed when it comes to shooters, and the rumor had returned to the fore in February of this quest 'year.
The job advertisements posted by Treyarch and Drew's words about "big plans for Zombies" would therefore seem to somehow confirm the work on a possible game entirely focused on Zombies. In any case, to know for sure we just have to wait.
Source Have you noticed any errors?
---
Call of Duty: Black Ops Cold War Update 1.32 Patch Notes Today (June 6)
The longevity of Call of Duty: Black Ops Cold War continues to stay alive as Treyarch Studios deploys a brand new update for the FPS title on Monday, June 6.
Call of Duty fans are currently gearing up for the release of Modern Warfare II, which is set to launch on October 28th, with a reveal trailer arriving during Summer Games Fest later this week. But the Modern Warfare series isn't to everyone's liking, with die-hard Black Ops fans still keeping Cold War's player base alive and well.
Thankfully, Treyarch Studios hasn't left the title in the dust and new content updates are still being churned out. If you're eager to find out what was included in the June 6 Black Ops Cold War update, check out the official patch notes further down this article.
MORE CALL OF DUTY: Modern Warfare 2 Could See The Call of Duty Series Return To Steam
Although yet to be confirmed by Treyarch Studios, it's looking like the latest Call of Duty: Black Ops Cold War update is set to include a brand new multiplayer map. As the patch isn't set to go live until later today, fans are still speculating on what today's update is actually for.
PlayStation 4 and PlayStation 5 players are currently able to pre-load the patch, but it isn't set to be installable until 9AM PT / 6PM BST. The download size will vary from platform to platform, with PlayStation 4 users reporting a download size of just over 4GB.
There's likely a large number of bug fixes included in the update, but Call of Duty leaker and data miner Alaix believes that the fan favourite map, Firing Range, could be added to Cold War in patch 1.32.
We're still waiting for Treyarch Studios to drop the official patch notes for the June 6 Call of Duty: Black Ops Cold War update. With the update set to go live at 9AM PT / 5PM BST, a full changelog is expected to be released shortly afterwards.
Make sure to check back in soon as we will be updating this article with the full patch notes as soon as they are made available to the public.
IN OTHER NEWS: Resident Evil 4 Remake Will Not Have Leon's Previous Voice Actor