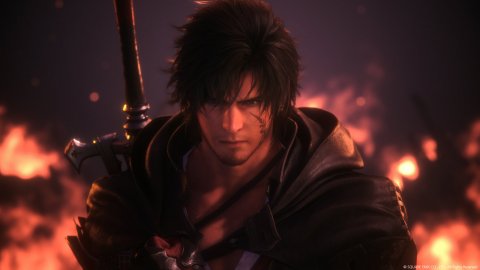 Final Fantasy 16
The characters
of Final Fantasy
1
6 will be
dubbed in British English and not with the universal American one. The confirmation came from producer Naoki Yoshida, who also explained the reason: paradoxically, he doesn't want to offend American players.
In an interview with Dengeki Online, translated by the always reliable @aitaikimochi, Yoshi-P has explained that Final Fantasy 16 will be voiced exclusively by British actors as the developers fear that American players hoping to savor a game set in a European-style medieval fantasy world may be disappointed.
"Although the script it's written in English, we made sure we didn't include any American accents, "Yoshida said. "We decided this to prevent American users who will play Final Fantasy 16 from getting angry, saying something like" I wanted to play a game set in fantasy medieval Europe, but why do all the characters speak American English? ". make sure all dialogue was recorded using British English ".
Dubbing Final Fantasy 16 in British English is therefore a stylistic choice taken to best represent a medieval European-style fantasy.
It is not
the first time that Square Enix has paid some attention to these details. Final Fantasy 9, for example, although devoid of dubbing, faithfully represented the various Japanese dialects (later adapted into Italian ones in our shores) to characterize the colorful cast of characters in the game in an original way.
Final Fantasy 16 will be available in the summer of 2023 for
PS5
. Also Yoshida in these days has revealed that he hopes to make a demo of the game before its debut in stores.
Source Have you noticed any errors?
---
Producer confirms Final Fantasy 16 uses 'British English only' and no American accents
Final Fantasy 16's producer has confirmed that the game uses British English only and no American accents, in order to channel the game's medieval Europe setting.
Speaking to Japanese publication Dengeki Online, Naoki Yoshida said that all of the game's voice and motion capture work was performed by European actors, so as not to break expectations from American players that the setting's characters should have British accents.
"This is especially true for our generation, but there is an image that 'Medieval fantasy = Europe' made popular by The Lord of the Rings," he said.
"Currently, there is no game that depicts a medieval fantasy world of this scale with PS5 class graphics. So we decided to focus on the scenery of medieval Europe and fused it with the fantasy we came up with."
Yoshida continued: "This time, the motion capture and voice acting are performed by European actors. However, since we Japanese designed the game, we first wrote the script in Japanese, then translated it into English, and then did facial capture in English after.
"But even though it's in English, we've been careful not to include any American accents. The decision was made to prevent American players from getting angry: 'I was looking forward to medieval European fantasy, so why are there American accents?!' (Laughs). Therefore, all lines are recorded in British English."
Final Fantasy 16 was announced last summer as a PlayStation 5 exclusive release. The game features a medieval-inspired setting and, going by its trailers, features a cast of mostly British voice actors.
Yoshida recently claimed that the game is near the end of development. That's after he said last December that Final Fantasy XVI's development had fallen almost half a year behind schedule.
Yoshida also recently claimed that the game will have a unique approach to difficulty. 
In an interview with Famitsu, Yoshida explained that the game will have an action-based battle system, similar to something like Kingdom Hearts, rather than a traditional turn-based battle system as seen in most previous Final Fantasy games.
]]>