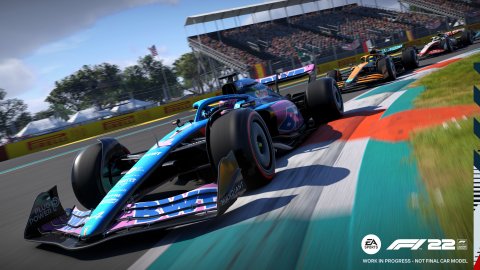 F1 22
Codemasters and
Electronic Arts
have unveiled the complete list of songs that will be available within F1 22. We are talking about a rather varied soudtrack, which also includes artists such as Charli XCX, the Italians Meduza and Marshmello, just to name a few. In total
there will be
33 tracks representing the 13 nations present in the game.
You can listen to the F1 22 sountrack right now, on Spotify at this address. Here is the complete list of the songs featured:
Alesso & Marshmello ft. James Bay - Chasing Stars (VIP Extended Mix) - Sweden & UK Bob Moses - Broken Belief - Canada BRUX ft. Kimbra - Take (Pat Lok Remix) - Australia, New Zealand CHAII & Party Favor - Oh Nah Yeah - New Zealand & USA Chapter & Verse ft. Yasmin Jane - Take Control - UK Charli XCX - Good Ones (THAT KIND Remix) - UK Charli XCX - Used To Know Me - UK Chase & Status ft. Ethan Holt - Hold Your Ground - UK Cheat Codes ft. Pop Icon - Payback - USA, Sweden Chris Lake, NPC- A Dr ** From God - UK CMD / CTRL - No Stress - UK Danny L Harle & DJ Danny - On A Mountain (Flume Remix) - UK deadmau5 & Wolfgang Gartner - Channel 43 - Canada & USA Diplo & TSHA ft. Kareen Lomax - Let You Go - USA, UK Diplo, Damian Lazarus ft. Jungle - Don't Be Afraid - USA, UK Eartheater - Scripture - USA Grafix ft. Reiki Ruawai - Somewhere - UK Habstrakt ft. KARRA - Ice Cold - France, USA Jacknife & The Bloody Beetroots - Jericho - Australia, Italy Joe Turner - Forever - UK Kavinsky ft. Cautious Clay - Renegade - France & USA KREAM & Millean. ft. Bemendé - What You've Done To Me - Norway, Netherlands, The Congo LP Giobbi ft. Kaleena Zanders - Carry Us - USA Mall Grab - Breathing - Australia Meduza ft. Hozier - Tell It To My Heart - Italy & Ireland NGHTMRE, Zeds Dead, Tori Levett - Shady Intentions - USA NOISY - All Of U - UK Öwnboss & Sevek - Move Your Body - Brazil Party Favor - Too Much - USA RL Grime & Baauer - Fallaway - USA Sassy 009 - Blue Racecar - Norway SONIKKU - Lifestyle - UK WHIPPED CREAM, Big Freedia, UNIIQU3, Moore Kismet - Hold Up - Canada, USA
We remind you that the date F1 22's release date is set for July 1, 2022 for PC,
PS5
,
PS4
,
Xbox Series X
| S and Xbox One. Have you seen the VR gameplay video of the PC version released at the Grand Prix du Canada 2022?
Have you noticed any errors?
---
F1 22 Gets More Authentic With PS5 DualSense Features
News
Experience another level of driving.
Published on June 20, 2022 Jake Su
With F1 22 set to arrive at the starting line this coming July 1, fans who have been lapping up all of the content about the underlying systems and content coming to the racer have one more reason to be excited if they are playing on the PS5. Thanks to the DualSense, would-be racers will be enjoying an even more authentic driving experience as detailed on the PlayStation Blog.
The haptic feedback and the adaptive triggers of the DualSense are the stars of the show, and as Senior Game Designer Steven Embling shares, it is all about immersing you into the game.
"Through utilizing the PS5 DualSense controller's haptics, the feeling of both collisions and surfaces has been greatly enhanced. It gives the ability to communicate individual chunks of surface debris and creates a far more immersive experience to represent the car on a particular part of the track,"
That added information is directional as well, so if you are on the kerb on either side of the car, you will be able to feel it from the right direction in F1 22.
As for the adaptive triggers, they will attach "the amount of resistance directly to slip ratios of the tyres," which means that "when your car 'locks up' under braking, the amount of resistance through the brake trigger increases, resulting in a more immersive connection with the car."
"Likewise, when wheelspin occurs the resistance of the accelerator trigger is increased. A subtle difference to the resting resistance of the accelerator and brake triggers has also been applied to simulate the difference in pressure needed to fully depress the brake vs accelerator pedals in a real-life F1 car,"
The DualSense controller speaker will also come in handy during races in F1 22, as players will be able to hear their race engineer giving advice, feeding them vital information, and help track the important data that can propel them to victory.
It is great to see games taking full advantage of the technology present in the different consoles. Those on PC or the Xbox side of things can still enjoy the racing goodness, of course, but for PS5 players, the utilization of the DualSense will hopefully elevate things to a whole new level when F1 22 arrives on July 1.