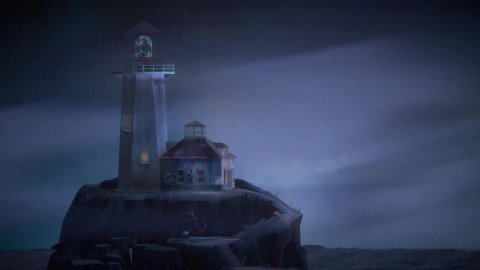 Oxenfree 2
Among the games shown in the video yesterday evening of the Tribeca Games Showcase 2022 there was also Oxenfree 2: Lost Signals, the new chapter of the particular narrative adventure with a fantasy-horror setting
in development at
Night School Studio.
The game is presented in direct continuity with the previous chapter, recovering its structure and general cut, as well as the graphic style. It is a highly narrative adventure characterized by a particular side shot and represented in 2D, with a rather cartoonish graphic style.
All this might seem sweetening, but the themes dealt with by both the first and the second chapter are deep and also touch on rather disturbing topics, especially in some specific moments of the narrative, when the supernatural breaks into what appears to be a normal situation.
In the videos shown during the Tribeca Games we see Riley and Jacob exploring a path of night, some caves and abandoned structures. According to the typical characteristic also of the first Oxenfree, the two interact constantly, with the possibility given to the player to choose how to carry on the conversation and therefore decide some elements of the progression in this way, as well as moving the character and using the particular radio that triggers contacts with mysterious entities.
Oxenfree 2: Lost Signals does not yet have a release date but is expected for the near future on PC and console. In the meantime, we have seen that Netflix has acquired the Night School studio, while to learn more about the first chapter we refer you to the Oxenfree review.
Have you noticed any errors?
---
Oxenfree 2 features Doctor Strange-style portals to other timelines
Oxenfree 2: Lost Signals, the sequel to the much-loved mind-bending adventure game Oxenfree, has just been shown off once again at the Tribeca Games Showcase during Summer Game Fest. During the extended deep dive into Oxenfree 2, we see plenty of action that's familiar to those who played the original. However, we also learn more about the new characters and how the radios this time play a time-splitting role in the gameplay.
In Oxenfree 2: Lost Signals, your radio can open up portals in time when you match the right frequency, allowing protagonists Riley and Jacob to step through into an alternate timeline. While it isn't exactly multi-dimensional, and they are summoned with a trusty radio rather than ancient magic, the orange glow of these portals give us big Doctor Strange vibes…
Despite all the great gameplay and the deep dive from a few of the developers, we sadly weren't treated to a concrete Oxenfree 2 release date.
It had been rumoured that the game would be out in February this year, after a release date was pulled from Oxenfree 2's PlayStation database listing. However, the game still isn't in players' hands, and at the end of the Oxenfree 2 section, all we got was a message reading: "Coming soon".
While this is disappointing, Oxenfree 2: Lost Signals was definitely a standout at the Tribeca showcase, alongside the likes of As Dusk Falls with its unique art style, and A Plague Tale Requiem.