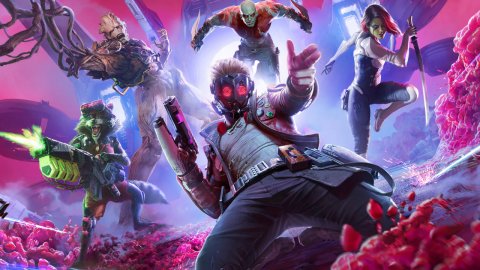 Marvel's Guardians of the Galaxy
Marvel
's Guardians of the Galaxy is shown with a spectacular launch trailer, released by Square Enix well in advance of the game's release
on PC and
console, set for October 26th.
We tried Marvel's Guardians of the Galaxy last month, faced with a title with a surprisingly rich narrative system and an immediate and frenetic gameplay, although at times repetitive.
The video offers an exciting overview of the characters we will be dealing with to do in the course of the adventure, showing the battles in action and the available customizations, as well as a mysterious figure in the ending: Adam Warlock?
In this third-person action game you will take on the role of Star-Lord who thanks to a brazen but questionable leadership, he gathers around him an odd crew of unlikely heroes.
An idiot (not you, of course) has set in motion a series of catastrophic events and only you can coordinate the unpredictable Guardians long enough to ward off an interplanetary collapse.
Between elemental guns, group attacks and acrobatic kicks with rocket boots, anything is allowed.
Have you noticed any errors?