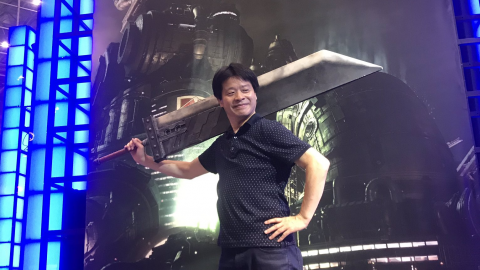 Final Fantasy
The Final Fantasy saga is in a time of great expansion. After the success of
Final Fantasy 7 Remake
, Square Enix is ​​ready to release a DLC and a
PS5
version. Work on Part 2 continues and a mobile battle royale (First Soldier) and a collection of the entire retro-styled FF7 saga (Ever Crisis) are also in production. Let's not forget that Final Fantasy 16 is also in development. The franchise is launched towards the future and to guide this evolution Square Enix puts in charge Yoshinori Kitase, who takes the place of Shinji Hashimoto as Brand Manager.
Shinji Hashimoto will remain at Square Enix to work on future plans and other projects, but as of now Kitase is the Brand Manager of the entire Final Fantasy franchise. Kitase kicked off his career with the series through the fifth chapter and was a producer of Final Fantasy 7 Remake and will be the producer of the sequel, as well as Ever Crisis.
Kitase, posing with the Buster Final Fantasy 7 Sword As for Final Fantasy 7 Remake Part 2, we got to discover that new clues
will arrive in
July 2021, thanks to the new book Ultimania Plus.
Also, we have finally discovered the release date Official
Final Fantasy 14
: Endwalker.
Source Did you notice any errors?
---
'Final Fantasy XIV Online' Endwalker expansion arrives on November 23rd
Endwalker, Final Fantasy XIV Online's fourth expansion pack, is coming out on November 23rd. Square Enix has revealed its release date at Digital Fan Festival 2021, where director Naoki Yoshida has also announced that the expansion is now available for pre—order. The gaming giant first revealed that Endwalker is coming out this fall during an event for the PS5 beta of the game back in February. Now, we finally have an exact release date and a full cinematic trailer featuring a new theme song composed by Masayoshi Soken (FFXIV's lead composer) that Square Enix has debuted at the festival, as well.
© Square Enix Final Fantasy XIV
Square Enix has also revealed the second job — the first one, Sage, was previously announced — that will be introduced with Endwalker at the event. The scythe-wielding 'Repear' can deal damage with melee attacks and summon avatars while fighting in close-quarter combat. In addition, the company has announced that male Viera will be added as a new playable race and has given fans a glimpse of all the other new content they can expect. There are new cities, areas and towns to explore, new tribes to encounter and new threats to overcome. 
Endwalker is now available for pre-order from Square Enix's website, the PlayStation Store and Steam. The standard edition will set players back $40, while the digital collector's edition with a bonus mount, minion and weapon will cost them $60. Players who pre-order the expansion will get early access, which is tentatively scheduled for November 19th. Finally, a collector's box with physical merch, including art prints, a paladin figure, a plush and a pin will be exclusively available from the Square Enix store and will cost buyers $140 or more.