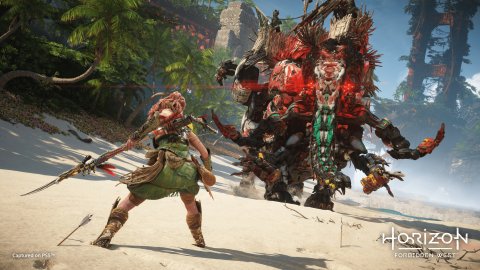 Horizon Forbidden West
A video posted on YouTube by ElAnalistaDeBits tried to show the improvements of
Horizon Forbidden West
that Guerrilla Games has managed to introduce over the years. The starting point of
Horizon Zero Dawn
was already excellent, but in this case, thanks also to the arrival of
PlayStation
5, the generational leap can be seen.
It is, of course, a preliminary and superficial comparison , especially considering that of Horizon Forbidden West we only have videos that are not yet final. Despite this, the game looks crazy, but it's easier to appreciate the improvements when the graphics are paired with that of Horizon Zero Dawn. The visual comparison shows some of the key changes of the sequel, such as the facial animations, the water and the general density of the geometry of the levels.
Already now we can say that the difference is huge and, as we have already said , the 2017 title was not bad at all.
ElAnalistaDeBits points out that there is no trace of raytracing in this build, so
it will be
interesting to see if Guerrilla Games will be able to add it before publication or if they are happy of the level achieved so far. The video points out that due to the compression of the source video, it is unclear at what resolution the
PS5
version is running, although it is expected to be capable of up to 4K.
Have you noticed any errors?
---
Update: The State of Play is over now, but the complete presentation and gameplay is in the video above. It looks a lot like the first game! Enjoy!
Sony and Guerrilla Games are set to reveal a bunch of new information and show off some new gameplay for upcoming PS5 exclusive Horizon Forbidden West today.
The sequel to the smash hit Horizon Forbidden Dawn is one of the PlayStation 5's most highly-anticipated releases. It certainly looks gorgeous in the few screenshots we've seen, though the first game—Zero Dawn—was also gorgeous. It was just super tedious as well.
From Sony's blog post:
During this State of Play, we will debut the Horizon Forbidden West gameplay reveal! In this 20-minute exclusive segment, you'll be seeing about 14 minutes of brand new in-game action featuring our heroic protagonist Aloy, all captured directly on PlayStation 5. 
This reveal has been a true team effort and we're very excited to show you what we have in store. Whether you've been with us and Aloy since Horizon Zero Dawn or are only just getting to know this incredible world, we want to share this huge milestone with you and cannot wait to see your favorite moments and reactions.
Horizon Forbidden West
Credit: Sony
It's also possible that Sony will reveal the release date for Horizon Forbidden West which is currently slated for sometime in 2021. I wouldn't be surprised if this was Sony's big holiday release, though I also wouldn't be surprised if this was pushed into early 2022. A late summer launch seems less likely, though it's certainly possible.
The State of Play kicks off at 2PM Pacific Time / 10PM BST / 11PM CEST. You can watch it in the embedded video above. I'll be tuning in as well. Crossing my fingers for a much-improved experience that's more than just a graphical upgrade. We shall see!
Follow me on Twitter and Facebook and feel free to share this post!
Subscribe to my YouTube channel here. Subscribe to my Substack newsletter here.