Super Mario Bros, rare copy sold at a record price: $ 660,000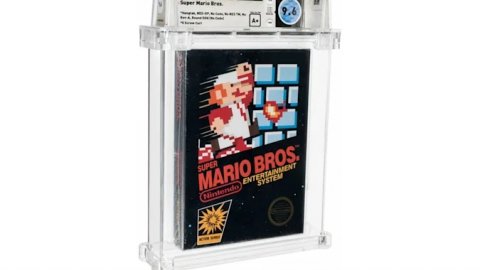 Super Mario Bros, rare copy sold at a record price
Super Mario Bros. for NES has reached a new record in the auction price of a particularly rare copy, recently sold for a whopping 660,000 dollars.
The auction took place in 13 competitors, which brought the price up to a record $ 660,000, far surpassing the previous record for the series, which was set at $ 156,000 for a copy of Super Mario Bros. 3 sold at auction last November. On the other hand, that there was a great interest behind this object had already emerged in the last few days before the auction, when the price had already started to rise before the official opening.
The lucky owner of the game, which remained anonymous, managed to keep intact the copy of Super Mario Bros. from 1986, which remained in perfect condition and never opened, complete with a closed outer cover. This is a rare event, also because the game in question is an absolute first edition of Super Mario Bros. of the year the game was released on the American market.
For reasons not specified, it seems that this copy remained closed in a drawer for 35 years, perfectly preserved until today. "It's been sitting in the bottom of my desk drawer all this time since the day of purchase," said the former owner of the Super Mario Bros. in question, "I haven't even thought about it anymore".
This is one of the first versions of Super Mario Bros. released in the United States in 1986, purchased as a Christmas present but apparently left unused for 35 years, which led to the owner making it an extremely rare item, but perhaps not even he would have imagined that he could scrape together such a large amount of money, since in the end he ended up with $ 550,000 in his pockets.
Definitely a great way to celebrate 35 years of Super Mario Bros. as far as it is concerned. Meanwhile,
Nintendo
has definitively taken
Super Mario 3D
All-Stars and Super Mario Bros. 35 from the eShop off the market, with the anniversary celebrations coming to an end. Who knows if even some copies of this title will be able to aspire to reach such prices in the future.
Super Mario Bros. in a first edition for NES USA perfectly sealed at the record figure of 660,000 dollars Source Did you notice any mistakes?
---
Someone Spent $660,000 On A Rare Copy Of Super Mario Bros. Because Why Not
© Image:
Nintendo
/ MobyGames Yes, this art is from the Famicom version, but it's so much better than the NES cover.
Heritage Auctions recently sold another rare copy of Super Mario Bros. for the Nintendo Entertainment System for an exorbitant amount of money. $660,000, to be specific. This absolutely shatters the record for a single video game auction, which was previously held by a copy of Super Mario Bros. 3 that sold for $156,000 last November.
Much like the Super Mario Bros. that was bought for $114,000 last summer, this new copy is held in such high esteem due to its near-perfect, sealed condition and the cardboard hangtab perforation on its back. That little oddity indicates its status as part of a brief, fourth-wave production window, further increasing its rarity.
Like I mentioned when Kotaku reported on the $300,000 Charizard card earlier this week, however, we should be wary about celebrating these kinds of sales as video game fans.
While Super Mario Bros. is in no danger of being lost to the sands of time, putting these ridiculous price tags on classic games threatens our ability to archive rare games in the future by making their availability reliant on being able to shell out hundreds of thousands of dollars. Not only that, but there's a chance these games, like classic art before them, are only being snatched up as a way to hide (or possibly even launder) liquid wealth in assets that can easily be used as tax write-offs.
In any case, it's cool to see someone drop half a million dollars on a video game. It's not like there's anything else that's worth spending money on these days.