Resident Evil Village: Photo Mode confirmed by a detail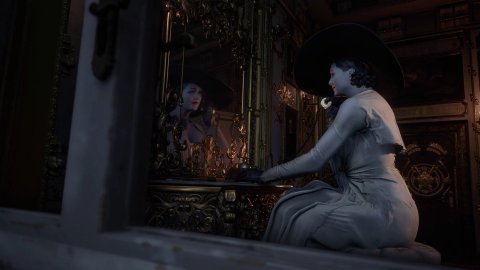 Resident Evil Village
In about a month we will finally be able to get our hands on
Resident Evil Village
, the new chapter of the Capcom horror saga and sequel to the popular Resident Evil 7 Biohazard. At this point we know a lot about this new game, but of course we don't know everything. For example, through a new video we found out that there will be a Photo Mode. You can see the proof below, in the image.
This frame comes from a video shared by IGN USA. As you can read, in the lower right corner, the possibility of activating Photo Mode with the Options button of the PlayStation controller is mentioned. The footage in question was made precisely with the
PS4
Pro version of Resident Evil Village, so we can assume it's an option available for all versions (and not exclusive to next-gen consoles, for example).
We specify that to date the presence of a Photo Mode within Resident Evil Village has never been confirmed. The image also shows that it will be possible to skip the cutscenes: in Resident Evil 7 Biohazard was not possible, so it is a "novelty". Players who want to face Village again can speed up the experience by skipping the cutscenes.
As always, we remind you that this is not completely official information. However, the fact that it comes from a game video captured a month before the release leads us to think that it is a function ready to be included in the full game. We will find out on May 7, when Resident
Evil Village will be
released on PC, Stadia, PS4,
PS5
,
Xbox
One
and Xbox Series X
| S.
Speaking of news, we report that a new mysterious character has been discovered thanks to a poster.
Resident Evil Village: Modalià Photo Source Have you noticed any mistakes?
---
In a surprise announcement in January, Capcom revealed that Resident Evil Village would in fact be launching on Xbox One and PS4, after previously announcing the game exclusively for Xbox Series X|S, PS5, and PC. Today, the publisher shared the first look at the anticipated sequel running on the older hardware.
Courtesy of IGN, you can enjoy around five minutes of familiar Resident Evil Village gameplay running on the PS4 Pro. The footage is strikingly similar to the visual representation on PS5, and, more importantly, seems to maintain a smooth high frame rate for gameplay. There are cases where you can easily spot some lower resolution textures, and the lighting is certainly a lot more accurate on the newer hardware, but otherwise it looks like a potentially great port.
More in-depth comparisons when the game launches might reveal more crucial differences between the two versions, but you may not have to wait that long to get a look at Village for yourself on older consoles. Capcom has previously confirmed that it intends to host another Resident Evil Village showcase in April, although an exact date has not yet been shared. The publisher also confirmed in January that a new demo would launch before the game's release, which only leaves a few weeks.
Resident Evil Village continues the story of Ethan Winters, the series' latest protagonist who was first introduced in Resident Evil 7. Village is said to conclude Winters' story, as he and franchise mainstay, Chris Redfield, travel to an eerie village beset by werewolves and vampires, with Lady Dimitrescu and her blood-sucking daughters at the center of a occult ritual. The game launches on May 7, and you can check out its many editions up for preorder with our guide here.
GameSpot may get a commission from retail offers.