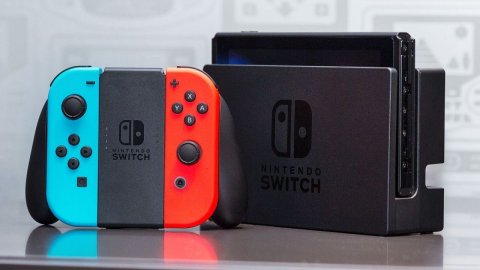 Nintendo Switch is the 6th best-selling console in Japan
Nintendo
Switch is now the 6th best-selling console of all time in Japan, according to data unveiled by Famitsu. The big N console has now reportedly sold 19,410,000 units within Japan's borders, which means it has surpassed the sales of NES (Famicom, Japan). What are the consoles that still beat it?
In fifth position, with 19,690,000 units we find PSP: according to forecasts, Nintendo Switch should be able to overtake the portable console of
PlayStation
around May 2021, without particular difficulties. The fourth position, occupied by
PS2
, is instead further away (21,980,000 units): according to forecasts, however, by the end of the year the Kyoto house could exceed this value, mainly thanks to the release of the remake of Pokémon
Diamond and Pearl
.
Nintendo Switch continues to climb the ranking In third position there is the 3DS with 24,730,000 units. To exceed this value it will be necessary to wait at least half of 2022. The Game Boy (32,480,000) and Nintendo DS (32,990,000) are very far away: in order to reach these values, Nintendo Switch should be able to record, in 2022-2023, numbers as large as those of 2020-2021. It's not easy, given that the pandemic has helped in sales over the last year, but Nintendo has proven to be able to amaze.
In 2022 Arceus Pokémon Legends should arrive, and we are also waiting for
The Legend of Zelda
Breath of The Wild 2 and also a new model of Nintendo Switch. The news does not seem to be missing and all together they could help the console to become the best-selling ever in Japan.
We also point out that Zelda Breath of the Wild 2 and Splatoon 3 could be at E3 2021: insider reveals Nintendo plans.
Source Have you noticed any errors?
---
Nintendo Switch Is Now The 6th Best-Selling Console In Japan
To say that the Nintendo Switch has been selling well over its now 4+ years of life (it arrived on March 3rd, 2017) would be a massive understatement. The console not only brought back Nintendo from the brink after the Wii U failure, but it introduced a much more mobile method of console gaming that hadn't truly been attempted before. Add that to the various games like Breath of the Wild, Super Mario Odyssey, Pokemon Sword and Shield, Animal Crossing New Horizons, Super Smash Bros Ultimate and more and you can see why it's constantly and consistently at the top of the charts.
It's already been setting sales records in the United States, but now, new numbers from Japan have confirmed that the Nintendo Switch is the 6th best-selling console in the nation all-time. Overtaking the spot that was once occupied by the original Famicon system. And the best part for Nintendo is that the system is going to get higher on the chart very soon should things progress as they are.
In Japan, Nintendo Switch is now the 6th best selling console of all time.
5th spot from PSP should be taken in May4th from PS2 taken around Nov. (with Pokémon)3rd from 3DS taken mid 2022
DS and GB are very far (need 22/23 to be almost as big as 20/21) but who knows… pic.twitter.com/jG1vHF2J5O
— Video Games Charts (@ChartsJapan) April 24, 2021
This is obviously a very big victory for the Nintendo Switch, and should it overtake the PS2 (which is very likely) then that would mean that 4 of the top 5 systems ever sold in Japan are Nintendo platforms and that would be a major deal.
The next big game for the Nintendo Switch that might just move consoles in Japan is New Pokemon Snap which arrives on April 30th.