Intel
It seems that the processors of the Tiger Lake family (U and H35 series)
are ready for
a change of clothes: Intel has decided to subject them to a "refresh" operation, acting on the SKUs in order to reach higher speeds. Let's see together, in detail, what are the innovations introduced (pending the arrival of the new CPUs).
Core i7-1195G7 & Core i7 1155G7
The rumors come from the Twitter profile of @momomo_us (known leaker in the sector) and even seem to be supported by a benchmark from PugetSystems, performed on a Core i7-1195G7 with a base clock of 2.9 GHz, which should, technically, go up to 4.8 GHz with the Turbo Boost, which corresponds to the same frequency reached by the i7-1185G7.
The 1155G7 model, on the other hand, would reach "only" 4.7 GHz, or so the specifications reported on the websites of some retailers say. The specs would be the same as the 1165G7, hence a base frequency of 2.8 GHz but with some differences when Turbo Boost is applied to all cores at work.
Core i7-11390H & Core i5- 11320H
For both CPUs Intel proposes an increase in the base clock of 100 MHz, while for the most intense jobs you can even count on 300 MHz more in Turbo Boost mode. The i7-11390H will therefore go from 4.3 GHz to 4.6 GHz, while its younger brother, the i5-11320H will see its frequency increase from 4.0 GHz to 4.3 GHz.
The following table briefly summarizes the line- up of the Tiger Lake family processors undergoing this upgrade, which we hope to see soon in our builds.
Core SKU Core / Thread Clock Base Clock Turbo (All-Core) Clock Turbo (max) TDP Xe EUS Release date Tiger Lake-H35 i7-11390H 4C / 8T 3.4 GHz 4.6 GHz 5.0 GHz 28 W - 35 W 96 Q3 2021? i5-11320H 4C / 8T 3.2 GHz 4.3 GHz 4.5 GHz 28 W - 35 W N.A. Q3 2021? Tiger Lake-UP3 i7-1195G7 4C / 8T 2.9 GHz N.A. 4.8 GHz 12 W - 28 W 96 Q3 2021? i7-1155G7 4C / 8T 2.8 GHz N.A. 4.7 GHz 12 W - 28 W 96 Q3 2021? The arrival of these Tiger Lake Refreshes would be expected for the period July-September of 2021, so we wouldn't have to wait even that long. They could be presented just before or even at the same time as Alder Lake CPUs, solutions that, we remind you, should bring a breath of fresh air to the desktop market.
The Intel Core i7-10700K
is b
ack on
Amazon!
---
G.Skill Announces DDR4-5333 Memory Kits for Intel Rocket Lake
Designed with a focus on Intel's latest 11th generation Rocket Lake processors and the new memory controller ratios, G.Skill has announced a wave of new memory kits designed to squeeze as much performance out of the platform. The new memory kits for Z590 and Rocket Lake feature speeds of up to DDR4-5333. They will be made available across multiple lines of its range, including the premium Trident Z Royal, Trident Z RGB, and the more affordable Ripjaw V series.
With memory performance and control getting some extra features with Intel's 11th gen desktop, the Z590 chipset with Rocket Lake processors now supports geared memory ratios between the memory controller and the DRAM data rates. The ability of Intel's memory controller in a 1:1 gear ratio can vary, certainly under ambient cooling methods, and not all of Intel's silicon can handle such high frequencies. This is where the gear ratio option becomes beneficial, taking some of the strain off the memory controller and allowing for high frequencies, with G.Skill capitalizing on this with its new memory kits up to DDR4-5333.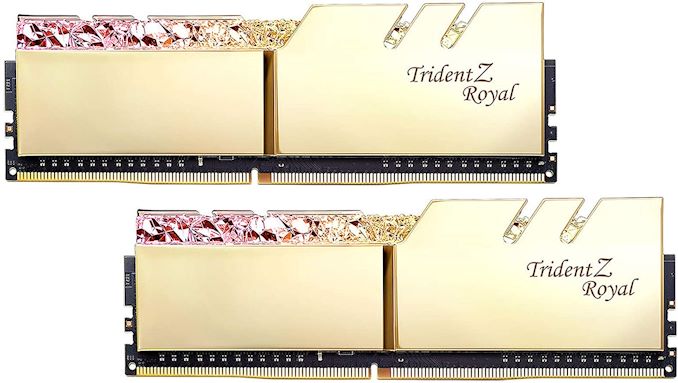 G.Skill's Trident Z Royal DDR4 Memory in Gold
The new G.Skill memory kits designed for Intel's Z590 (with Rocket Lake) start from DDR4-4266 with CL19 ratings, with two available capacities: dual-channel 32 GB (2x16) and 64 GB (2x32) kits. Also set to be available include DDR4-4400 kits with CL17 and CL18 latencies, including an operating voltage of 1.50 V in both the 32 GB and 16 GB kits.
Moving up, there's one kit of DDR4-4600 with CL20 with a total capacity of 64 GB (2 x 32 GB) and three different flavors of DDR4-4800; CL17 and CL18 with 2 x 8 GB kits, and CL20 with 2 x 16 GB. There's one 32 GB (2 x 16 GB) kit at DDR4-5066 with CL19 and an operating voltage of 1.6 V, with one kit maxing out at DDR4-5333 and CL21 latencies, with 2 x 8 GB memory sticks.
G.Skill Memory For Intel Z590 (Rocket Lake)Rating (MT/s)LatencyVoltageCapacityDDR4-426619-26-26-4619-26-26-461.45 V1.50 V32 GB (2 x 16 GB)64 GB (2 x 32 GB)DDR4-440017-18-18-3818-24-24-441.50 V1.50 V32 GB (2 x 16 GB)16 GB (2 x 8 GB)DDR4-460020-30-30-501.50 V64 GB (2 x 32 GB)DDR4-480017-19-19-3919-28-28-4820-30-30-501.60 V1.50 V1.55 V16 GB (2 x 8 GB)16 GB (2 x 8 GB)32 GB (2 x 16 GB)DDR4-506620-30-30-501.60 V32 GB (2 x 16 GB)16 GB (2 x 8 GB)DDR4-533322-32-32-521.60 V16 GB (2 x 8 GB)
G.Skill has announced that its new Rocket Lake and Z590 kits have been validated on the ASUS ROG Strix Z590-E Gaming WIFI, the ASUS ROG Maximus XIII Apex, and MSI's MEG Z590I Unify motherboards with an Intel Core i9-11900K processor. G.Skill also stated that its DDR4-4800 CL17 16 GB (2 x 8 GB) kit uses Samsung B-die memory chips but didn't specify if this was the case across its range.
At the time of writing, G.Skill hasn't given us any pricing, but they are expected to launch in Q2 2021. With memory prices set to rise throughout the year, these kits aren't likely to be cheap. The G.Skill Trident Z Royal and Trident Z RGB will likely feature at the higher end of the pricing spectrum, with its Ripjaw Z series sitting as its entry point.
Related Reading