Stranger Things 5: unveiled the title of the first episode, there are those who think of a sensational return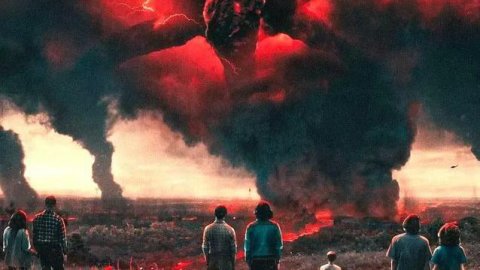 Stranger Things 5
On the occasion of "Stranger Things Day", the official Twitter account of the Netflix TV series has seen fit to write a message with a rather significant photo, being the first page of the script of the first episode of Stranger Things 5, with the title that has immediately gave rise to theories about a sensational return.
There is still no more precise information or release dates, but in the meantime we learn that the first episode of Season 5 of Stranger Things will be titled "The Crawl", or "crawl", or something like that, still referring to the act of crawling on the ground.
Obviously, the term can refer to an infinity of things, considering the theme covered by in Stranger Things, but there is a particular interpretation that is causing debate among fans. We talk about it after the tweet in question, considering that it may contain spoilers
for those who
have not finished watching Season 4 of the series.
Some particularly imaginative fans see a connection of the title with the possible return of Eddie Munson, which could happen in several ways: according to one theory, it could be a "recruitment" of Munson - who we remember would have died in the Upside Down during the final stages of season 4 - by Vecna. In this case, the link could also be offered by the lyrics of Master of Puppets, the Metallica song that the character performs in one of the most epic scenes of Stranger Things 4: "Come crawling faster / come obey your master", which may have to do with a recall of the character by the main villain.
According to other interpretations, it would instead be Eddie's crawling directly from the Upside down to our dimension, even if we do not understand precisely how the thing works. In any case, the discussion has already started, now all that remains is to wait for more information on Stranger Things 5. In the meantime, on the video game front, Stranger Things VR has just been announced.
Source Did you notice any errors?