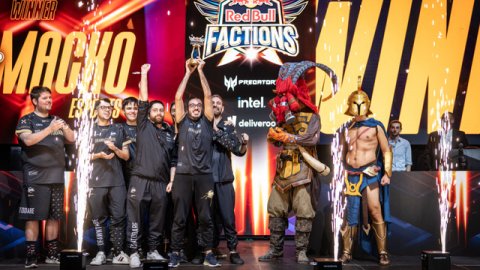 League of Legends
The particular Italian
League of Legends
competition, or the Red Bull Factions, ended on November 4 in Milan, with an epic challenge that finally saw Macko
Esports
prevail at the end of a particularly hard-fought final for the Italian title. br>
The final wait for the competition has transformed a historic location in Milan, La Pelota Jai ​​Alai, into an arena dedicated to esports, with Atleta Esports and Macko Esports contending for the title, two veteran teams of the competitive landscape which have already been addressed in the past, with different results.
League of Legends: Macko Esports win at Red Bull Factions This time, it was the Macko Esports who bestowed all their talent and managed to exploit all peculiarities of the Factions system.
Red Bull Factions, in fact, like almost all Red Bull competitions, represents an even more complex and unconventional challenge: players have the possibility of accessing only a limited pool of samples. The players were able to choose only characters belonging to 2 factions that characterize the universe in which League of Legends is set, limiting their possibilities and thus urging them to sharpen their wits to fully exploit all the characteristics of their champions, amalgamating points of strength and weakness.
So it was also for this final, where Macko Esports managed to maintain control of the scene for most of the time, allowing only one match to their opponents, the Atleta Esports, closing the evening with a 3 to 1 for the Macko.
The evening saw the participation of hundreds of hundreds of people, with professional cosplayers and exceptional pro players to welcome the public, but also the most loved casters by fans such as veterans KenRhen and Terenas, Moonboy, Etrurian and Juannetti, accompanied by expert analysts Wolcat, Juniper and Counter6. The remote participation of Brizz is also important: the coach of the AnC Outplayed team and well-known pro-player, a true innovator of the way to play League of Legends, was in fact the official co-streamer of the event.
Staying in this area, we also remember that the final of the Worlds 2022 of League of Legends took place over the weekend, an event that recorded a record success.
Have you noticed any errors?