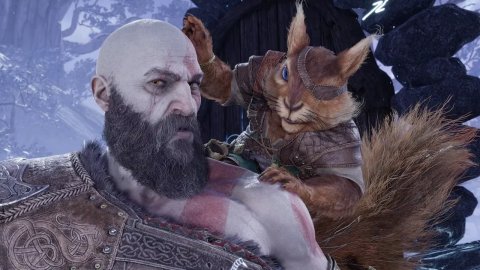 God of War Ragnarok
People for the Ethical Treatment of Animals (PETA) wants a new game mode for
God of War Ragnarok
that removes violence against animals. That is the "PETA mode". The appeal was launched on Twitter, together with a video.
Note : We warn you right now that from now on you will find Spoilers on one of the bosses of the game, so avoid continuing further if you don't want to spoil any surprises.
Clearly Kratos doesn't do trouble dealing with creatures from the Nine Realms if they prove to be a threat to him or Atreus. That said, outside of fighting the game basically prevents the user from killing or hurting animals, with the exception of Odin's Crows (which are not "real" living beings anyway).
In short, PETA's request leaves the time it finds, although it may be less serious than it seems. We recall, for example, the ironic video published by the institution with the 5 best activities to do in Elden Ring while respecting animals.
"Boy, it's like with Sif the Great Gray Wolf (from Dark Souls ed) a another time. We ask
Sony
Santa Monica to create a "PETA mode", so that it is possible to play God of War Ragnarok without violence against animals!", PETA's request on Twitter.
There is also a video attached to the message, which shows some sequences of the fight with the giant wolf Garm and a message that invites people not to leave their animals in the cold.
"This dog has been chained outdoors in the cold for years," reads the message in the video. "Kratos and Atreus find him in a deplorable condition, enduring the freezing devastation of Fimbulwinter without any shelter. He has no food (aside from Kratos) or water at his disposal."
"All dogs deserve loving homes and warm sofas, even if they're 60 feet tall. If you're cold, they're cold."
We doubt Sony Santa Monica will comply with PETA's wishes, also because the studio is already considering what will do in the future.
Have you noticed any errors?