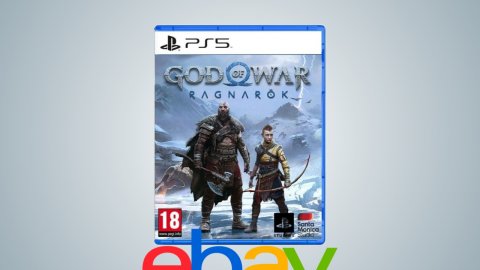 God of War Ragnarok on sale for PS4 and PS5
Through eBay it is possible to briefly pre-order
God of War Ragnarok
in the
PS4
and
PS5
version at a discount. The price is € 63 (instead of € 70.99) for the
PlayStation
4 version and € 71.90 (instead of € 80.99) for the PlayStation 5 version. You can find the two products at these addresses:
PlayStation 4 PlayStation 5
The seller is luemm-store for the PS5 version, with 99.8% positive feedback: it is also listed as an eBay Premium service. The PS4 version is instead sold by fer-point, with 100% positive feedback. Payment is possible in both cases via PayPal, G Pay, Visa, Mastercard and American Express. This is the EU version of the game, that is with box in English and game in Italian.
God of War Ragnarok will be available from tomorrow, November 9, 2022. In our review we explained that "God of War Ragnarok is as beautiful as its predecessor, but for very different reasons. It is more mature in all gameplay dynamics, more complete, deeper, and features a much more varied, layered and rewarding combat system. But in its being such a faithful sequel and consistent with the past, it loses any element of real novelty along the way, dilutes itself in its progression and shakes off even that epic tone that had characterized the soft reboot. After all, it is a more of the same; a beautiful , fun, long-lived more of the same. "
We also point out that the Telegram Channel dedicated to geekinco offers is available. Follow it to be always updated on the latest offers selected by our editorial staff!
Kratos vs Thor in God of War Ragnarok This news includes an eBay affiliate link that can earn a commission to geekinco.
Have you noticed any errors?