Death Stranding 2: Hideo Kojima "punishes" Reedus for the leak by imitating Negan from The Walking Dead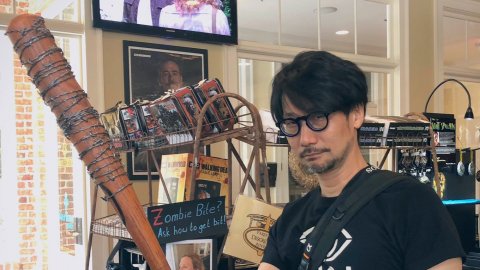 Death Stranding 2
Norman Reedus confirmed in an interview that work on Death Stranding 2 has begun, thus revealing the existence of a sequel and probably anticipating an announcement with great fanfare from Kojima Productions. Could Hideo Kojima be angry? Not at all he took it with sportsmanship, posting a tweet where he imitates Negan from
The Walking Dead
, threatening (jokingly) the actor.
The post was published a few hours after an interview with Norman Reedus confirmed the existence of Death Streanding 2 started circulating on the net. In the first shot we see Kojima holding Lucille, the barbed wire baseball bat so loved by Negan, one of the characters of The Walking Dead, a series in which Reedeus also starred.
In the second shot, the game designer imitates the character
in one of
the most famous scenes of the series, preparing to hit the obviously frightened actor in the head. Is this the end of a great friendship? Not at all, as we see in the third shot, the two are still jelly and flab.
Staying on the subject, Reedus' confirmation of Death Stranding 2 seems to deny Hideo Kojima's involvement in the next, allegedly, Silent Hill, but apparently it is still a possibility, given that according to a rumor Kojima Production is also working on another project.
Have you noticed any errors?
---
Death Stranding 2 is in development according to Norman Reedus
In a recent interview, actor Norman Reedus states he recently began work on the second Death Stranding.
The video game development process can be quite secretive, with teams working tirelessly behind the scenes to bring a project to life long before the public is made aware of its existence. However, details often slip out before they were intended to. That just may be the case with Kojima Productions' unannounced sequel to Death Stranding, as star Norman Reedus recently stated that work has started on a second game.
It was during an interview with Leo that Norman Reedus spoke about his work in 2019's Death Stranding, in which he played the protagonist Sam Porter Bridges. It's here that Reedus seemingly confirms that a sequel is on the way, and that it's currently in development. "We just started the second one," he said. He also talks about the process of creating the first game.
It took me maybe two or three years to finish all the MoCap sessions and everything. It takes a lot of work. And then the game came out, and it just won all these awards, and it was a huge thing, so we just started part two of that.
Reedus doesn't go into specifics about the content of the sequel, but his involvement means that we're surely getting more Sam Porter Bridges in whatever adventure comes back. We recently saw Kojima Productions return to the world of Death Stranding with the release of the Director's Cut on PS5.
This is the first word we've gotten from someone working on the game about a potential sequel. There has been a lot of speculation that Kojima Productions' next title would be a sequel to Death Stranding, and this all but confirms it. Of course, we'll await official word from Hideo Kojima himself before considering it to be completely official.
Donovan is a young journalist from Maryland, who likes to game. His oldest gaming memory is playing Pajama Sam on his mom's desktop during weekends. Pokémon Emerald, Halo 2, and the original Star Wars Battlefront 2 were some of the most influential titles in awakening his love for video games. After interning for Shacknews throughout college, Donovan graduated from Bowie State University in 2020 with a major in broadcast journalism and joined the team full-time. He is a huge Star Wars nerd and film fanatic that will talk with you about movies and games all day. You can follow him on twitter @Donimals_