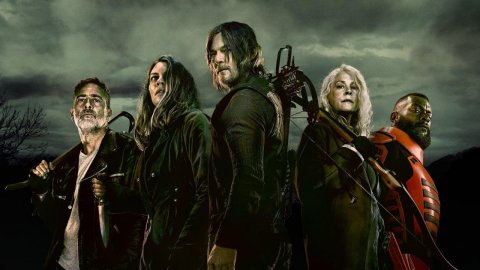 The Walking Dead
The filming of the television series The Walking Dead
has official
ly ended, after 11 seasons and twelve years: the Twitter profile of the show
produced by
AMC
has announced
it.
As we prepare for the debut of the interactive event The Walking Dead : Last Mile, arriving
on Facebook
this summer, the television reduction of the work created by Robert Kirkman has therefore ended.
There were, however, some unexpected events: the last day of production was postponed by way of Norman Reedus suffered a concussion during filming. So far the incident was not cleared up.
The production thought it was nice to share the closing photos of the shooting of every single season of The Walking Dead, also to give fans the opportunity to see many protagonists whose characters have somehow passed away.
Clearly the end of the television series does not imply the interruption of further projects linked to the franchise, which will undoubtedly have a very long life given that it continues to involve
millions of
users around the world.
Source Have you noticed any errors?
---
'The Walking Dead' has finished filming after 12 years. Here's how the cast and crew reacted to wrapping the final episode.
'TWD' cast and crew are seen in a photo released by the show's official Twitter account.AMC/Twitter
'The Walking Dead' wrapped filming its series finale on March 30 after 11 seasons and 12 years.
The close-knit cast and crew shared photos, videos, and goodbyes on social media.
Paola Lázaro told Insider it's 'bittersweet' for the series to be done filming.
Star Norman Reedus thanked everyone who has come on this journey for the past 12 years.
Reedus confirmed the series wrapped filming on Twitter at 2 a.m. ET on March 31.
In the same tweet, Reedus wrote, 'That's a wrap. 11 seasons 12 years. Never been so beat up and it was an absolute blast. Thank you to all of you that took this ride with us and what a ride it was.'
He shared the message along with a short, throwback video on Instagram of himself and costar Melissa McBride singing. The two will star in an upcoming spin-off next year.
Executive producer, director, and special make-up effects supervisor Greg Nicotero shared a sweet video with Reedus.
'Remember when we were babies and we started this show and you had short hair?' Nicotero asked Reedus.
'I feel like my entire brain is short-circuiting right now. I can't really wrap my head around this,' Reedus responded.
Lauren Cohan showed off some 'TWD' swag from the final season while sharing her gratitude.
'I don't have the words right now, but I want to raise my cup to the crew of The Walking Dead. Thank you. 11 seasons. My heart is full,' Cohan wrote on Instagram.
Cohan will star in a separate 'TWD' spinoff, 'Isle of the Dead,' which is set to start shooting later this year.
Jeffrey Dean Morgan shared a fan compilation of moments with the cast.
'Love this. Lotta love on this show. We'll miss it ALL. Xxxjd,' Morgan wrote on Twitter.
Morgan will appear alongside Cohan in 'Isle of the Dead.'
Paola Lázaro said it's 'bittersweet' for the show to be done filming.
Paola Lázaro as Juanita 'Princess' Sanchez on 'TWD.'Josh Stringer/AMC
'I think we're all tired physically, but we are just sad to say goodbye to each other — to the crew, the cast, everybody behind the scenes,' Lázaro, who plays Juanita 'Princess' Sanchez on the series, told Insider on the series' wrap day. 'To not wear my coat anymore, my pink jacket, it makes me kind of sad. I fell so in love with this character.'
Story continues
Lynn Collins congratulated everyone on wrapping the series and reflected on joining the show near its end.
'Congratulations to everyone who has worked on this phenomenal and iconic show …it has been a dream and an absolute pleasure to be a part of this journey #twd FOREVER,' Collins wrote on Instagram.
Collins joined the series during season 10's bonus episodes as Daryl's love interest after being a fan of the series.
Khary Payton shared a 'TWD' comic cover sharing his likeness as his character, Ezekiel.
'I love this cover by my friend, @djjacksonsart. Yea, it's Ezekiel but I feel like I can see myself in the expression on his face. I love the sense of calm. And I see gratefulness. I feel that right now, enjoying the end of a beautiful ride,' Payton, who has appeared on the series since season seven, wrote on Instagram.
Ross Marquand shared a simple black-and-white photo marking the 'end of an era.'
Marquand has played Aaron on 'TWD' since season five.
Executive producer Denise Huth shared a behind-the-scenes image from the final day of shooting.
'It's hard to believe but after 11 seasons, shot over 12 years, The Walking Dead has officially wrapped. There is so much to say but for right now there is sleep and gratitude,' Huth, who has been with the series since season one, wrote on Instagram.
Director of photography Duane Charles Manwiller has been sharing behind-the-scenes photos from the final season.
Here's an aerial shot Manwiller shared with the cast and crew from the set of the Hilltop.
You can check out more of his finale photos here.
Showrunner Angela Kang shared a video of the series' wrap on Instagram.
Kang joined the series on season two as a writer and has overseen the shown since season nine. She'll serve as showrunner on the untitled 'Carol and Daryl' series.
Read the original article on Insider