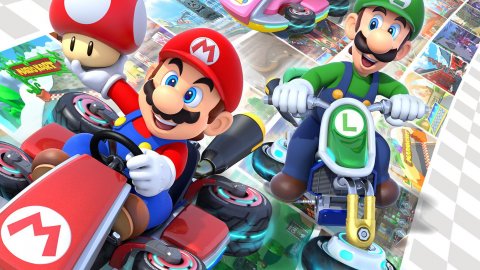 Mario Kart 8 Deluxe Seasonal Circuit Italy
Nintendo
has unveiled the details of the first stage of the
Mario Kart 8
Deluxe Seasonal Circuit Italy, an online competition with free and open access that will start on Sunday 5 June 2022 and which will take place from 19:00 to 21:00. Anyone who owns a copy of Mario Kart 8 Deluxe for Nintendo Switch
will be able to
participate.
Mario Kart 8 Deluxe Seasonal Circuit Italy, the banner of the event Between doors and trajectories to the limit, fun is guaranteed for everyone thanks to the immediacy and intuitiveness of the gameplay of this unique racing game, which also allows beginners to try their hand at heart-pounding races in the company of their friends. The competition, which will be open to all and consisting of a total of three events, will continue until November 2022 and will also allow those who do not have the additional route Pass to test themselves with the iconic tracks included in the DLC.
To enter the competition, you must use the appropriate tournament code, to be entered in the game: 0252-4222-9291
If you don't know how to do it, refer to the official page of the event.
Let's read other details, taken from the official press release:
Each stage of the Mario Kart 8 Deluxe Seasonal Circuit Italy will be self-contained and will see ten players triumph, who will share a series of unmissable prizes offered by LEGO and Big Ben Interactive as well as, for the first time ever, special rewards celebrating the competition. Specifically, will the top three finishers respectively receive Block sets? Super Mario 64, Luigi's Mansion Ghost Hunt and Luigi's Mansion Laboratory and Poltergust, while players up to eighth place will each be able to take home a Nintendo Switch Big Ben NNS50GR case. In addition, for all ten best drivers
there will be
Seasonal Circuit branded prizes such as a jacket for the first place, a metal case for the second step of the podium, a T-shirt for the bronze medal and caps for the remaining seven positions. . Finally, all participants, regardless of placement, will receive 50 platinum points that can be used within the My Nintendo program. The subsequent events will also offer many other exclusive prizes, so fans will have the opportunity to participate in all the stages to increase their chances of victory and try to take home the title of Champion.
Have you noticed any errors?
---
Gold Medal Games: Picking the best sports games in Nintendo's multi-decade history
Best Nintendo version of the sport: Mario Kart: Double Dash!! (2003)
What does it get right? The most interesting 21st innovation in Mario Kart's venerable history wasn't the shift to two-wheels, but to two people per kart: With 2003's GameCube-exclusive Double Dash!!, a series that often devolves into "more tracks, forever," Nintendo actually found a way to make its core gameplay more exciting. Double Dash!! might not have quite the track variety of Mario Kart 8 Deluxe (although we'll stump for the massive Wario Colosseum any day of the week), but its ability to pair two different drivers (and players) together for increased trackside chaos makes it the crown jewel title of Nintendo's crown jewel racing franchise.
Is Waluigi in it? Don't turn around, dear reader; Waluigi may be right behind you (preparing to throw a red shell at your enemies).
Interesting also-rans: Land-(ish)-based racing is the single biggest entry in Nintendo's whole sports catalog, courtesy of Mario Kart, F-Zero, and a few other, smaller franchises. With apologies to Captain Falcon (and the Uniracers crew), though, we'll stump here for the Excite series, especially the massively underrated ExciteTruck and ExciteBot for the Wii. Aside from simply getting "steering by turning the Wiimote" as right as Nintendo ever did, both games also emphasize exploration and expressive play over sheer speed, transforming each of their tracks into big, dynamic playgrounds for racers to flip and spin their way across.
(Slightly edited) list of all the Nintendo games with this sport: Excitebike (NES, 1985), R.C. Pro-AM (NES, 1988), F-1 Racing (Game Boy, 1991), Super R.C. Pro-AM (Game Boy, 1991), F-Zero (SNES, 1991), Super Mario Kart (SNES, 1992), Stunt Race FX (SNES, 1994), Uniracers (SNES, 1994), Mario Kart 64 (N64, 1997), F-Zero X (N64, 1998), F-Zero: Maximum Velocity (GameCube, 2001), Mario Kart Super Circuit (GBA, 2001), Mario Kart: Double Dash!! (GameCube, 2003), Kirby's Air Ride (GameCube, 2003), F-Zero: GP Legend (GameCube, 2004), Mario Kart DS (DS, 2005), ExciteTruck (Wii, 2006), Mario Kart Wii (Wii, 2008), ExciteBots (Wii, 2009), Mario Kart 7 (3DS, 2011), Mario Kart 8 (Wii U, 2014), Mario Kart 8 Deluxe (Switch, 2017)