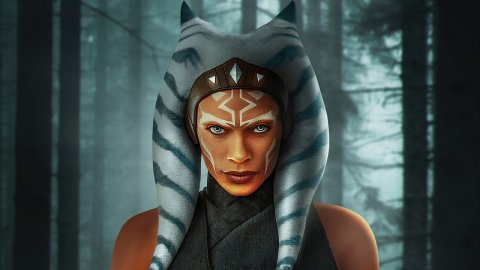 Ahsoka
Ahsoka's debut trailer, the new Star Wars series arriving on the Disney + platform, reveals the presence of a certain character linked to the Jedi played by Rosario Dawson. Who is it?
Actually the video, of bad quality like the stolen trailer of The Mandalorian, as it was shot live at the Star Wars Celebration, is cut right in the final moments.
Those who have
seen it in person, however, report that the revealed character is Sabine Wren, the Mandalorian rebel who will be played by Natasha Liu Bordizzo on the show.
We know that Ahsoka's production has started a few days ago and we won't see the series until 2023, but apparently the showrunners have thought about including important references to the expanded universe of Star Wars.
Source # 1 Source # 2 Did you notice any errors?
---
Rosario Dawson debuts first Ahsoka footage and teases Sabine, Chopper, and Hera
Ahsoka Tano is finally stepping into the spotlight.
The double-lightsaber-wielding heroine became a key player in Star Wars history when she debuted as Anakin Skywalker's Padawan in the 2008 animated Clone Wars film. Since then, Ahsoka has popped up all over the galaxy, including in the Clone Wars series, Rebels, The Mandalorian, and The Book of Boba Fett. Now, she's finally ready to headline her own live-action show, with Rosario Dawson putting on those familiar head-tails.
Dawson was on hand Saturday at Star Wars Celebration, accompanying producers Dave Filoni and Jon Favreau on stage to tease the upcoming series. Ahsoka has been shooting for only a few weeks, and it's not scheduled to hit Disney+ until 2023, but Filoni still brought a little teaser footage, giving fans a first look at the return of everyone's favorite Togruta warrior.
'It's been just such a thrill and honor to bring this character to life and to feel the energy of everyone wanting to see her come to life,' Dawson told the crowd. 'As a fan, it's been exciting to experience it and see this story continue.'
Ahsoka Tano (Rosario Dawson) in Lucasfilm's THE MANDALORIAN, season two, exclusively on Disney+, (c) 2020 Lucasfilm Ltd. &TM. All Rights Reserved.
Lucasfilm Ltd. Rosario Dawson as Ahsoka Tano in 'The Mandalorian'
Ahsoka is set during the same time period as The Mandalorian and The Book of Boba Fett, as the galaxy faces new challenges after the events of Return of the Jedi. Thanks to her appearances on The Mandalorian, we know that the show will follow Ahsoka as she searches for Rebels character Ezra Bridger and attempts to hunt down the nefarious Grand Admiral Thrawn.
Fortunately, she has a few allies to assist her in her search: The footage that aired during the Star Wars Celebration teased strong links to Rebels, and Dawson was soon joined on stage by beloved droid Chopper and Natasha Liu Bordizzo, who'll be playing Rebels fan favorite Sabine Wren. The clip showed Bordizzo's Sabine looking on at her painted mural of the Ghost crew, and the audience also got a peek at a shot of an unidentified character from behind — a character that looked a lot like Ghost captain Hera Syndulla.
Story continues
'I feel like I've been adopted into a new family,' Bordizzo told the audience. 'I can't say a thing, but I know how much Sabine means to a lot of people in this room, and watching Rebels she's come to mean a hell of a lot to me, too. I know how much she means to Dave, so I think you guys are going to be really excited about the journey she's about to have.'
Ahsoka's cast also includes Mary Elizabeth Winstead and Ivanna Sakhno. It doesn't have a release date yet but is expected to premiere sometime in 2023.
Sign up for Entertainment Weekly's free daily newsletter to get breaking TV news, exclusive first looks, recaps, reviews, interviews with your favorite stars, and more.
Related content: