Netflix Geeked Week: the program of the event and the news that will be shown, including games-themed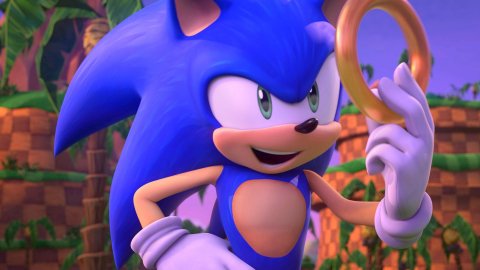 Netflix Geeked Week
The Netflix Geeked Week Event Schedule Netflix Geeked Week will air June 6-10, 2022. Now, the company has shared a new poster - which you can see above - showing the event schedule, day by day.
There will be
various news, including some themed video games.
It starts on June 6th, with the Netflix TV series. There will be space for The Umbrella Academy, The Sandman, but also the Resident Evil series. There will be room for One Piece, for all fans of the manga and anime. It continues with First Kill, Alice in Borderland, All of us are Dead, Fate: The Winx Saga, Manifest, Locke & Key, School Tales The Series, Shadow and Bone, Sweet Tooth, The Midnight Club, Vikings Valhalla, Warrior Nun and 1899.
Tuesday 7 June will be film time, starting with The Gray Man and The School for Good and Evil. It continues with Spiderhead, Day Shift, The Sea Beast, Wendell & Wild, Blasted, Killer Book Club, Interceptor and Troll.
For animation lovers there will also be a dedicated day, June 8th. We
will be able to
see something new about Cyberpunk Edgerunner, but also talk about Love, Death & Robots, The Dragon Prince, Arcane, Inside Job, Exception, Farzar and Moonrise.
June 9 will be dedicated to Stranger Things and, finally, on June 10th there will be space to talk about videogame themed shows, such as the Cuphead Show!, but also Sonic Prime - of which we have seen a fragment here -,
Dota
Dragon's Blood and Tekken: Bloodline. There will also be space for Netflix games, including Lucky Luna, Poinpy and The Paper House.
It will be
possible to follow the event on all platforms, such as YouTube, Twitter, TikTok, Twitch and Facebook.
Source Have you noticed any errors?
---
Netflix Geeked Week 2022 Lineup Features Stranger Things, The Gray Man, and Much More
Netflix has unveiled its schedule for Geeked Week 2022, a virtual five-day event packed with sneak peeks, trailers, cast panels, and a whole lot more.
Geeked Week will run from June 6 through to June 10 this year, with each day of the event dedicated to a different category to showcase Netflix's most hotly anticipated titles across various genres, including television series, movies, animation, games, and Stranger Things — which takes up an entire day of its own amid its longest and most ambitious season yet.
Here's a full rundown of what you can expect, courtesy of Netflix Geeked:
June 6
The first day will dig into mind-bending series such as The Umbrella Academy, which is returning to the platform with a new season on June 22, along with all-new shows like Resident Evil, coming up on July 14, and the Neil Gaiman-inspired Sandman series, which was greenlit back in 2019. A trailer for the event showed Gwendoline Christie's Lucifer in action.
The recently-released Geeked Week schedule also confirms that we will also be learning more about Netflix's adaptation of anime One Piece, First Kill, Alice in Borderland, All of Us Are Dead, Fate: The Winx Saga, Locke & Key, Manifest, School Tales The Series, Shadow and Bone, Sweet Tooth, The Midnight Club, Vikings: Valhalla, Warrior Nun, and 1899.
June 7
The following day will center around upcoming movie releases, including the Chris Hemsworth-led Spiderhead, Paul Feig's The School for Good and Evil, and the Russo Brothers' action thriller The Gray Man, which will see two of the world's greatest assassins attempt to hunt one another down when it releases on Netflix on July 22.
Geeked Week will spotlight more titles from Netflix's summer movie slate and beyond, which features a mix of rom-coms, action, drama, family films, and documentaries. The agenda for June 7 also lists Day Shift, The Sea Bast, Wendell & Wild, Blasted, Killer Book Club, Interceptor, and Troll as titles that fans will be geeking out over.
Upcoming New Netflix Movies in 2022
June 8
Midway through the event, Netflix will delve into all things animation. Cyberpunk: Edgerunners, a 10-episode series set in the Cyberpunk 2077 universe, is one of IGN's most anticipated anime of the year, and it will be headlining the third day alongside Love, Death & Robots, The Dragon Prince, Arcane, Inside Job, Exception, Farzar, and Moonrise.
June 9
Thursday will see Netflix go inside out (and upside down) with Stranger Things. The day will consist of an aftershow for Season 4 of the Duffer Brothers-created series, which will have already debuted Volume 1 on May 27, with the final two episodes coming on July 1. The event will also dig into 'The Hellfire Club: A Stranger Things Dungeons & Dragons Adventure.'
June 10
The Cuphead Show! will take to the virtual stage on Friday, together with Sonic Prime, DOTA: Dragon's Blood, and Tekken: Bloodline. Netflix will also show off more than 10 Netflix games, including one based on Money Heist, as the streamer looks to ramp up its gaming-based content opportunities 'from every direction' to further expand its offerings on the platform.
Netflix will share all of its Geeked Week content daily on its official channels, including YouTube, Twitter, Facebook, Twitch, and TikTok. If you happen to miss anything, IGN will have you covered with all the latest details and announcements, so be sure to check back here each day for the biggest trailers, teasers, and more.
Adele Ankers-Range is a freelance writer for IGN. Follow her on Twitter.