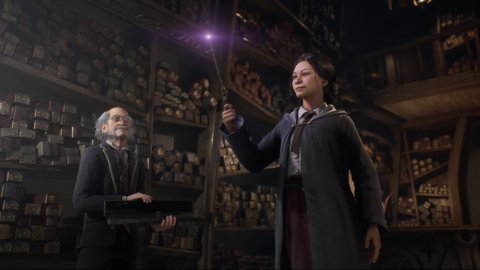 State of Play
Sony
PlayStation
has announced the
date and time of
the
State of Play
dedicated to Hogwarts Legacy. We will be able to see the game based on the world of Harry Potter on March 17, 2022 at 22:00.
The State of Play of March 17, 2022 dedicated to Hogwarts Legacy will last 20 minutes and will show 14 minutes of
PS5
gameplay of the game .
Via the PS Blog, Avalanche Software and Warner Bros Games said: "Since we unveiled Hogwarts Legacy, the trailer has been viewed over 28 million times on the PlayStation YouTube channel. We have promised to show you more. this year, and it's finally time to deliver on that promise. "
Hogwarts Legacy State of Play will be available to follow on Twitch or YouTube. Next, a "special article that will add some context to what we show you" will be published, again via the PS Blog.
In our preview, we explained to you that "Hogwarts Legacy is the dream come true for many fans. A fantasy that has lasted for over twenty years and has finally come true thanks to the joint efforts of Avalanche and Portkey Games. By choosing to treat a period prior to both the story of Harry Potter and that of Newt Scamander, the developers have built full freedom of action without leaving behind some cornerstones capable of returning that sense of familiarity due to novels and films. In terms of content it seems an extremely promising game and placing the emphasis on Ancient Magic is undoubtedly very interesting, it remains to understand how they will want to manage the gameplay structure and how much they will be able to balance school life with typical exploration. of open-worlds. "
Source Did you notice any errors?
---
Harry Potter: Hogwarts Legacy State of Play: When and where to watch in your time zone
Harry Potter: Hogwarts Legacy has been discussed for what feels like eons in the online space, and now we're finally getting to see more on what might be the game Harry Potter fans have always dreamed of. The PlayStation Blog confirmed that a State of Play stream event that focuses on Hogwarts Legacy exclusively will air on March 17.
Fans are already praying that this is an improvement on March's previous State of Play stream, which was widely seen as underwhelming for PlayStation fans. Though, only Harry Potter fans are really gearing up for something big here, understandably. Still, given that this gets a dedicated State of Play, it must be impactful.
Below we're listing when and where you can watch March 2022's Harry Potter: Hogwarts Legacy State of Play stream.
https://twitter.com/PlayStationEU/status/1503370578895552512
Below we've listed when the Harry Potter: Hogwarts Legacy State of Play airs in all the time zones so you can view from wherever you are in the world.
March 17
PDT: 2pm.
EDT: 5pm.
BRT: 6pm.
GMT: 9pm.
CET: 10pm.
March 18
IST: 2:30am.
CST: 5am.
JST: 6am.
AEDT: 8am.
NZDT: 10am.
As you would expect, the Harry Potter: Hogwarts Legacy State of Play stream will air simultaneously on both Twitch and YouTube through the PlayStation channels, which you can click through to using our links below.
Quick tip: if you're watching through the YouTube stream, try setting playback to x2 speed, and the stream will catch up to the most recent available point. Handy!
Written by Dave Aubrey on behalf of GLHF.