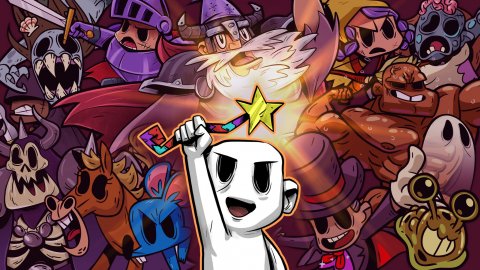 Nobody Saves the World for PS5 spotted
PlayStation
Game Size has spotted the
PS5
version of Nobody Saves The World, currently not yet announced, in the PlayStation Database. The timing of this discovery is certainly interesting, as it could be one of the free games on the PlayStation Plus from April 2022 and / or included with Spartacus.
In fact, this week there will be the announcement of free games for
PS5 and PS4
of the PlayStation Plus for subscribers to the Sony service. Furthermore, according to a recent Bloomberg report, in a few days Sony will finally unveil PlayStation Spartacus, the much talked about service that apparently could merge PlayStation Now and Plus. According to rumors, there will be various subscription tiers, with the possibility for subscribers to access a selection of modern and classic titles, and Nobody Saves the World could be among them.
For those unfamiliar with it, Nobody Saves the World is an action RPG with an overhead view made by DrinkBox Studios, the authors of Guacamelee, landed on PC,
Xbox Series X
| S and Xbox One in January of this year and included in the
Xbox Game Pass
catalog.
The peculiarity of the game is that the protagonist can transform into a large number of creatures, from snails to dragons, assuming attack, defense and movement characteristics. We were delighted with the game, as you can read in our review of Nobody Saves the World by Giorgio Melani.
Have you noticed any errors?
---
All PS5, PS4 Crossplay Games
Among Us
PS5
PS4
Xbox One
Nintendo Switch
PC
Mobile
Yes
Apex Legends
PS5
PS4
Xbox Series X|S
Xbox One
NoArcadegeddon
PS5
PS4
PC
NoBassmaster Fishing 2022
PS5
PS4
Xbox Series X|S
Xbox One
PC
NoBattlefield 2042
PS5
Xbox Series X|S
PC
PS4
Xbox One
YesBlack Desert
PS4
Xbox One
NoBorderlands 3
PS5
PS4
Xbox Series S|X
Xbox One
PC
Mac
Google Stadia
NoBrawlhalla
PS4
Xbox One
Nintendo Switch
PC
No
Call of Duty
: Black Ops Cold War
PS5
PS4
Xbox Series X|S
Xbox One
PC
YesCall of Duty: Modern Warfare
PS4
Xbox One
PC
YesCall of Duty: Warzone
PS5
PS4
Xbox Series X|S
Xbox One
PC
YesCall of Duty: Vanguard
PS5
PS4
Xbox Series X|S
Xbox One
PC
YesChivalry 2
PS5
PS4
Xbox Series X|S
Xbox One
PC
YesDauntless
PS5
PS4
Xbox Series X|S
Xbox One
Nintendo Switch
PC
YesDead by Daylight
PS5
PS4
Xbox Series X|S
Xbox One
Nintendo Switch
PC
YesDIRT 5
PS5
PS4
Xbox Series X|S
Xbox One
PC
NoFantasy Strike
PS4
Nintendo Switch
PC
YesFarming Simulator 22
PS5
PS4
Xbox Series X|S
Xbox One
PC
Mac
Google Stadia
NoFortnite
PS5
PS4
Xbox Series X|S
Xbox One
Nintendo Switch
PC
Mobile
YesGhost Recon Frontline
PS5
PS4
Xbox Series X|S
Xbox One
PC
Google Stadia
YesGhostbusters: Spirits Unleashed
PS5
PS4
Xbox Series X|S
Xbox One
PC
NoGRID Legends
PS5
PS4
Xbox Series X|S
Xbox One
PC
NoGuilty Gear Strive
PS5
PS4
PC
NoHunt: Showdown
PS4
Xbox One
NoJust Dance 2021
PS5
PS4
Xbox Series X|S
Xbox One
Nintendo Switch
PC
Google Stadia
NoJust Die Already
PS4
Xbox One
Nintendo Switch
PC
NoKartRider: Drift
PS4
Xbox One
PC
YesKnockout City
PS5
PS4
Xbox Series X|S
Xbox One
Nintendo Switch
PC
YesMinecraft: PS4 Edition
PS4
Xbox One
Nintendo Switch
PC
Mobile
YesMLB The Show 21
PS5
PS4
Xbox Series X|S
Xbox One
YesMLB The Show 22
PS5
PS4
Xbox Series X|S
Xbox One
Nintendo Switch
YesMortal Kombat 11 Ultimate
PS5
PS4
Xbox Series X|S
Xbox One
NoMultiVersus
PS5
PS4
Xbox Series X|S
Xbox One
PC
YesNeed for Speed Heat
PS4
Xbox One
PC
NoNeed for Speed: Hot Pursuit Remastered
PS4
Xbox One
Nintendo Switch
PC
NoNERF Legends
PS5
PS4
Xbox Series X|S
Xbox One
PC
NoNo Man's Sky
PS5
PS4
Xbox One
PC
Yes (PS4 to PS5)Outriders
PS5
PS4
Xbox Series X|S
PC
NoOvercooked: All You Can Eat
PS5
Xbox Series X|S
NoOverwatch
PS4
Xbox One
Nintendo Switch
PC
NoPaladins
PS4
Xbox One
Nintendo Switch
PC
YesPlayerUnknown's Battlegrounds
PS4
Xbox One
NoPower Rangers: Battle for the Grid
PS4
Xbox One
Nintendo Switch
PC
Google Stadia
No
Rainbow Six Extraction
PS5
PS4
Xbox Series X|S
Xbox One
PC
Google Stadia
YesReadySet Heroes
PS4
PC
NoRiders Republic
PS5
PS4
Xbox Series X|S
Xbox One
PC
Google Stadia
YesRocket League
PS4
Xbox One
Nintendo Switch
PC
YesRogue Company
PS4
Xbox One
Nintendo Switch
PC
YesRumbleverse
PS5
PS4
Xbox Series X|S
Xbox One
PC
YesRust Console Edition
PS4
Xbox One
YesSackboy: A Big Adventure
PS5
PS4
Yes (PS4 saves transfer to PS5)Secret Neighbor
PS4
Xbox One
Nintendo Switch
PC
Google Stadia
Mobile
YesSMITE
PS4
Xbox One
Nintendo Switch
PC
YesSnowRunner
PS4
Xbox One
Nintendo Switch
PC
NoSpacelords
PS4
Xbox One
PC
NoSpellbreak
PS4
Xbox One
Nintendo Switch
PC
YesSuper Animal Royale
PS5
PS4
Xbox Series X|S
Xbox One
Nintendo Switch
PC
Google Stadia
YesSuper Bomberman R Online
PS4
Xbox One
Nintendo Switch
PC
YesSuper Mega Baseball 2
PS4
Xbox One
Nintendo Switch
NoSuper Mega Baseball 3
PS4
Xbox One
Nintendo Switch
PC
NoTetris Effect
PS4
Xbox One
Xbox Series X|S
PC
NoTiny Tina's Wonderlands
PS5
PS4
Xbox Series X|S
Xbox One
PC
NoWarface
PS4
Xbox One
Nintendo Switch
NoWargroove
PS4
Xbox One
Nintendo Switch
PC
NoWorld of Warships
PS4
Xbox One
NoZenith: The Last City
PS4
PC
Meta Quest 2
No