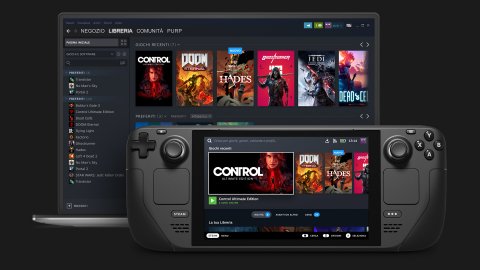 Steam
Valve has reportedly blocked payments to Ukrainian Steam developers. However, the company stated that it is only a technical error that will be resolved.
A series of reports emerged on Twitter at the
beginning of
the month, which indicated the following email from Valve: "Due to the current world situation, we are unable to send payments to Belarus, Russia or Ukraine. " However, no other details were given. As indicated by many, it seems strange that Valve blocks payments to Ukrainian developers, along with Belarusian and Russian ones, considering that it is the first that has been invaded. Developers need more than ever to receive the money they are owed, given the many difficulties they are facing.
Steam logo Valve has however quickly answered the doubts by explaining that the block to payments of Ukrainian developers is the result of technical problems with the bank, which requires a series of new information to allow payments in Ukraine (and also in Russia, while Belarus is completely blocked). The payments
expected for
the end of March will therefore not be made, but everything should be resolved in April. Valve then apologized for the problems.
Staying on topic, an Arma III video was mistaken for a real war scene, even by the Ministry.
Source Did you notice any errors?
---
Steam Deck closing in on 2,000 games rated Verified or Playable
Steam Deck is getting close to hitting a pretty big milestone, with nearly 2,000 games rated Verified or Playable. Considering it only released just over a month ago, it's a pretty sweet place to be for Valve's handheld.
Not without issues though, with some games not really having the correct rating which Valve now wants feedback on with their new system. Still, it seems like the vast majority are being given a rating that fits in well. Here's the latest numbers:
999 - Verified
913 - Playable
930 - Unsupported
Some of the more recent games to receive a rating include: CARRION (Verified), We Happy Few (Verified), Aliens: Colonial Marines (Playable), Middle-earth™: Shadow of Mordor™ (Verified), Ni no Kuni Wrath of the White Witch™ Remastered (Verified), Tom Clancy's The Division (Playable), Stoneshard (Playable), Heavy Rain (Verified), Wolfenstein: The New Order (Verified), Wolfenstein II: The New Colossus (Verified).
One that doesn't make sense is DRAGON BALL XENOVERSE 2, which got a Verified rating by Valve, even though online doesn't work due to Easy Anti-Cheat which the original developer has not turned on for Linux / Steam Deck. Good job they have that new feedback system huh?
It looks like Valve has made a small adjustment to the way games go through Deck Verified now too, with SteamDB noting a new field named 'gamescope_frame_limiter_not_supported'. This is possibly as a result of a bug I logged, as some games don't work at all with the frame limiter in the performance menu of the Steam Deck (usually OpenGL titles).
Article taken from GamingOnLinux.com.