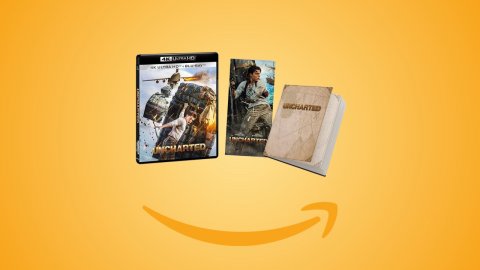 Uncharted, blu-ray
It is currently possible to pre-order the Uncharted Blu-Ray, the
Sony
film, in 4K version with a bookmark and a themed notebook included. The price is 30 €. function ready (fn) {if (document.readyState! = 'loading') {fn ()} else {document.addEventListener ('DOMContentLoaded', fn)}} ready (function () {window.addEventListener ('message', function (event) {let target_origin = 'https://aff.netaddiction.it'; if (event.origin! == target_origin) return; if (typeof event.data == "object" && event.data.hasOwnProperty ( "type") && event.data.type == "embaff") {let embed_id = event.data.embed_id; if (embed_id == '627') {document.querySelector ('#_ aff_embed_627'). setAttribute ('height ', event.data.embed_size);}}}, false);}) Currently
the release date of
the blu-ray is not indicated on Amazon, but it is possible to pre-order in order to activate the reservation at a guaranteed minimum price. In this way, the minimum price displayed on the platform will be paid at the time of shipment without having to follow the price trend. If so, you can cancel your pre-order free of charge.
The official product description reads: "Street thief Nathan Drake (Tom Holland) is recruited by seasoned treasure hunter Victor" Sully "Sullivan ( Mark Wahlberg) to recover a fortune lost by Ferdinando Magellano 500 years ago. What begins as a robbery for the duo becomes a mad rush to reach the goal before the ruthless Moncada (Antonio Banderas), who believes that he and his family are the legitimate heirs. If Nate and Sully manage to decipher the clues and solve one of the world's oldest mysteries, they can find a $ 5 billion treasure and perhaps even Nate's long-missing brother, but only if they will learn to work together. "
We
would also like to
point out that the Telegram Channel dedicated to geekinco offers is available. Follow it to be always updated on the latest offers selected by our editorial staff!
Uncharted Blu-ray This news includes an Amazon affiliate link that can earn a commission to geekinco.
Have you noticed any errors?
---
'Uncharted' Starring Tom Holland 4K Blu-ray Home Video Details
Sony Pictures Home Entertainment have charted the home video path for their hit new franchise-starter Uncharted starring Tom Holland and Mark Wahlberg.
The Uncharted Digital HD and 4K release date is a little over a month away on April 26th. The wait for the 4K Ultra HD, Blu-ray, and DVD formats release date isn't much longer to May 10th. A Limited Edition 4K Steelbook with ring necklace will be available the same date.
Uncharted will be packaged with over an hour's worth of bonus features on all high definition formats, or everything except DVD. Only The Buddy System will appear on DVD.
Deleted and Extended Scenes
Behind the Scenes Featurettes
Becoming Nathan Drake
Big Action Breakdown: C-17 Globemaster
Charting the Course: On Set with Ruben Fleischer
Never a Dull Moment: Stunts & Action
The Buddy System
Villains, Backstabbers & Accomplices
Commentary with Director Ruben Fleischer
4K tech specs for Uncharted include Dolby Atmos audio.
Uncharted also stars Sophia Ali, Tati Gabrielle, and Antonio Banderas.
TheHDRoom may be paid a small commission for any services or products ordered through select links on this page.