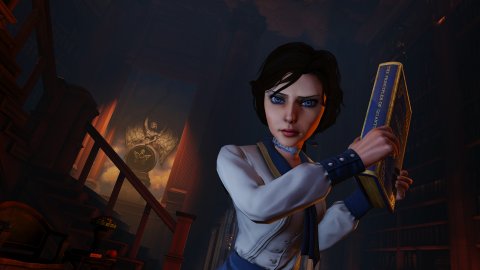 BioShock Infinite receives dozens of updates on Steam
BioShock Infinite, a game from Ken Levine and Irrational Games from 2013, has received a whole series of secret updates on PC - via Steam - for a few months now and no one knows why.
Over the past weekend, BioShock fans have noted that BioShock Infinite's SteamDB database listing has reported a number of updates, which began months ago. Since September 2021, someone has quietly introduced updates to the PC version of BioShock Infinite, and they have increased in quantity every month. Just last week, for example, 12 updates were rolled out for BioShock
Infinite on PC
, and in the previous week they were 13 more updates made, again to the PC version of the 2013 Irrational action game. A Take-Two developer (publisher) seems to have repeatedly updated BioShock Infinite for some reason.
If we had to guess, considering that the updates at the beginning of the month were linked to the Linux operating system, we would say that at least part of these updates were linked to supporting the Steam Deck version of BioShock Infinite. The
game is not
"Verified" for now, but it may be added to the list soon. For now this is only speculation, mind you.
We contacted 2K for a comment on the matter.
Speaking of
the future of
the series, rather than the past, it seems that the development of Bioshock 4 is troubled and 2K is not satisfied with the results, for a leaker.
Source Did you notice any errors?
---
BioShock Infinite On PC Has Quitely Received More Than A Dozen Updates This Month
BioShock Infinite just had its nine-year anniversary on Saturday, having first released on March 26, 2013, and now, fans are noticing something odd about the PC version of the game: it has quietly received 13 updates this month. 
That's quite a lot of updates, but it's more than a dozen on top of multiple that have consistently gone live in BioShock Infinite since roughly September 2021, as reported by TheGamer. What's odd is that 2K, the publisher behind BioShock Infinite, hasn't really publicly acknowledged these updates. On top of that, there's no confirmed reasoning behind them either as BioShock Infinite remains the same game it was before the updates started happening. 
According to TheGamer, it received seven updates in 2021 and now, in March alone, it's had 13. Players have begun speculating about what these updates mean, and why they're happening, and some have arrived at a possible remaster of BioShock Infinite, or a new-gen update (which could theoretically affect the PC version). Others think that perhaps 2K is working on some back-end stuff to make BioShock Infinite a Steam Deck-ready game. 
However, what seems most likely is some behind-the-scenes work on 2K launch integration, as pointed out by LitheBeep on Reddit. Zorklis on Reddit, in response, said one of the updates features "2K Launcher Development Branch" in it, seemingly confirming that the updates have to do with this launcher and not anything more exciting like a remaster or new-gen update. Perhaps 2K will end the speculation by letting everyone know what's going on with BioShock Infinite. 
In the meantime, read Game Informer's BioShock Infinite review and then listen to Game Informer's Video Gameography crew dive deep into the history of BioShock. After that, read about what we want from BioShock 4. 
[Source: TheGamer]